Lompoc Valley Medical Center Community Update, July 24, 2020
Dear Lompoc Valley Community:
I will do you all a favor and keep it short today. There is not too much new in the world of Covid this week, but there are a few things of note. As previously mentioned, each week I will provide information on a couple things of interest happening at LVMC (which includes the hospital, CCC, and Lompoc Health clinics.)
COVID-19 Statistics and Information
The Santa Barbara County Covid Positivity Rate (positive test results divided by total test results) for the seven-day period ending July 23, decreased significantly to 8.6%, from 10.6% for the previous seven-day period ending July 16. Although it remains to be seen whether this represents a trend, it is definitely a very good sign. The State benchmark for Positivity Rate is 8%, so hopefully we will soon be better than that benchmark, and "be in the green" for that metric.
The number of Covid positive individuals who are hospitalized in Santa Barbara County has decreased since its peak of about a week ago. Currently, the number of hospitalized patients is in the mid-70s, versus the mid-80s a week ago. Of the 70+ Covid patients in the County, 5 are currently at LVMC, which is up a little from the recent past. Santa Barbara County is now in the green for the metric, "percent change in Covid positive hospitalized patients." The metric for which Santa Barbara County is having the most difficulty being better than benchmark is, "number of Covid positive cases per 100,000 population."
From the beginning of the pandemic, LVMC has had 68 hospitalized Covid positive patients. Of the 68, 48 (71%) have had underlying conditions (comorbidities). For those 48 patients, the average number of comorbidities was 2.3. Soon, the County Public Health Department will be providing similar data on a County-wide basis.
New Lompoc Health Physicians/Providers and Recruitments
I am pleased to announce that Dr. Carl Schlosser has joined Lompoc Health, effective July 1, 2020. Schlosser, Family Medicine physician, has been serving the Lompoc Community for many years, and I am sure that many of you reading this know Dr. Schlosser very well. He is practicing at our North H Center, and we are very happy to have Dr. Schlosser join the ranks of Lompoc Health.
I am also pleased to announce that Dr. Randall Caldron has joined Lompoc Health, effective July 13, 2020. Caldron is an Internal Medicine physician, and is providing both Urgent Care and Primary Care at our Lompoc Health-North H Center. Please join me in welcoming Dr. Caldron to the Lompoc Valley Community.
We are on a roll; I am also pleased to announce the addition of two new Primary Care Providers who are practicing at our Lompoc Health-North Third Center. They are Jessica Denton, PA, and Emily Liebo, PA. They both started this month. Welcome, Jessica and Emily.
We are in the final stages of recruiting a new oncologist, who will work alongside Dr. Donna Walker, at our Lompoc Health Oncology Center. He will also work closely with LVMC Medical Staff member, John B. Wilkinson, Radiation Oncologist.
Lastly, we are in the early-to-mid stage of recruiting an Internal Medicine physician to practice Primary Care at our Lompoc Health-North Third Center. Once this recruitment is complete, we will have a full complement of Lompoc Health physicians and providers, and we will look forward to continuing to serve the healthcare needs of the Lompoc Valley Community.
Donations
A huge thank you to the following businesses and individuals who have made donations of Personal Protective Equipment and supplies, food for our healthcare workers, and other acts of kindness. You are all very much appreciated!! Albertson's Store #3171--and those individuals who participated with Albertson's; Northrop Grumman; Southwest Carpenters Union; INTO THE AM CLOTHING LLC-Matt Marchione; Kathy Milham; Kimberly Todd; Vons Market; Celeste Dugré; Subway; Sleep Center; Doreen Ross; Lompoc Pizza Hut; Superior Home Health; Miguelito Elementary School; Cajun Kitchen; La Purisima Mission Mask Makers; Advanced Performance Physical Therapy; SONOS; Pickle & Peanut Restaurants Inc.; Jordano's; Lompoc Little Caesar's Pizza; Victoria Perez; Diana Coronado; Firework Foundation; The Daily Grind; Industrial Eats; Vivid Financial Management; Christine Collier; David Carey DDS; The Church of Jesus Christ of Latter-day Saints; Sue McIntyre; McDonalds; Hilton Garden Inn; Anita Macias; a collaboration of 18 wineries--Alma Rosa, Ampelos, Chanin, Fiddlehead, Flying Goat, Garcia, Kings Carey, Kita, Longoria, Loring, Pali, Piedrasassi, Sandhi, Santa Barbara Winery, Sea Smoke, Sweetzer, Temperance and Transcendence; CoastHills Credit Union; CenCal Health; Dunn School; American Host; Kateri and Chris Kingsley; Katherine Milham; Sweet Bliss Sugar Scrubs and Co.; Carol Kirkland; Dr. Iris Radler; Donna Bommersbach; Patricia Henry; Nancy Manes; Annamie Lafferty; Marilyn Romine; Courtney & Mitch Barnham; Ida Kreds; Ingrid Kaper; Judy Carpenter; Space X; Lompoc Oral and Maxillofacial Surgery; Santa Barbara Foundation; Lompoc Hospital District Foundation; Lompoc Unified School District; Lompoc YMCA; Floriano's Mexican Food; Circle K; Keller Williams Realty of Lompoc; Girl Scouts of Lompoc; Arbonne independent distributors; Orcutt Bakery; Northrop Grumman; L3Harris Technologies; Astrotech Corp.; Harbor Freight; Home Depot; Direct Relief; Heath Dental; CHC Dental; Mikowicz Dental; Kimberly Nails; Not Alone Plumbing; Artisan Uprising Winery/Azeo Distillery; Starbuck's Store 496; Tom's Burgers; Super Grill; Sign Gypsies Central Coast.
Our frontline healthcare workers, support staff, physicians, and allied health professionals have been doing an outstanding job, and we are very thankful and proud of them!! Thank you, Lompoc Valley Community, for your tremendous support of LVMC and our healthcare workers; it means a lot to all of us!
As always, please feel free to contact me at popkins@lompocvmc.com or (805) 737-3301. Until next time, be well and stay safe!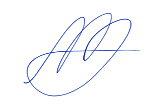 0Steve Popkin
Chief Executive Officer