LVMC COVID-19 Community Update, June 19, 2020
Dear Lompoc Valley Community:
Today, I will provide some analysis of COVID-19 statistics, based upon Santa Barbara County Public Health Department data. All of the figures below exclude data pertaining to the Federal Correctional Complex. For those who are getting "COVID-19 Fatigue," next week I plan to include updates regarding other "happenings" at LVMC.
Select Santa Barbara County COVID-19 Statistics and Analysis
This week (June 13-18) has seen a significant spike in COVID-19 cases and hospitalizations throughout the County.
During this week, there were 5 new positive cases from the Lompoc Valley; 43 cases from Santa Barbara; and 183 cases from Santa Maria. (If we take the rate of new cases, and normalize by applying population size data, it doesn't change the disparity much. Using Santa Maria population as the baseline population for all areas, Lompoc Valley would have 9 new cases, Santa Barbara 50 new cases; and Santa Maria 183 new cases.)
COVID-19 patients who are hospitalized in the County increased from 51 to 61. This represents a 19.6% increase. The number of hospitalized patients in ICU increased from 12 to 17, a 41.7% increase. Of the 61 hospitalized patients from the Santa Barbara County community, none are hospitalized at LVMC, as of today.
To date, there have been 127 healthcare workers in the County who have tested positive for COVID-19. Only one of those healthcare workers was an employee of LVMC, and he has long since recovered.
During the June 13-18 period, there were 4 deaths, all from Santa Maria. This brings the Santa Barbara County total to 19. However, there were no deaths during the last two days of this period.
The age distribution of COVID-19 cases within Santa Barbara County skews younger than most areas. The breakdown for cases (not hospitalizations, but cases) is as follows: 0-17=9%; 18-29=26%; 30-49=36%; 50-69=21.3%; and 70+ = 8%.
The age breakdown for hospitalizations is not publicly reported, but from informal information sources, it appears that the age distribution for hospitalized patients in the County is similarly skewing much younger than most areas.
The ethnicity of individuals who have tested positive for COVID-19 was not reported for 31% of the cases. However, using data for the 69% of the cases for which ethnicity was reported, it breaks down as follows (rounded to the nearest 1%): Hispanic/Latino = 81%; White = 16%; Asian = 1%; Black/African American = 1%; Other = 1%
Masks
Members of my family, in Southern California, tell me that many people there are not wearing masks while in public places. From what I can see, virtually everyone in Lompoc is wearing a mask. That is likely a big reason why our COVID-19 rates have remained low during this recent spike. Keep being diligent!
Donations
A huge thank you to the following businesses and individuals who have made donations of Personal Protective Equipment and supplies, food for our healthcare workers, and other acts of kindness. You are all very much appreciated!! (The ones in bold are new since the last update.) Southwest Carpenters Union; INTO THE AM CLOTHING LLC-Matt Marchione; Kathy Milham; Kimberly Todd; Vons Market; Celeste Dugré; Subway; Sleep Center; Doreen Ross; Lompoc Pizza Hut; Superior Home Health; Miguelito Elementary School; Cajun Kitchen; La Purisima Mission Mask Makers; Advanced Performance Physical Therapy; SONOS; Pickle & Peanut Restaurants Inc.; Jordano's; Lompoc Little Caesar's Pizza; Victoria Perez; Diana Coronado; Firework Foundation; The Daily Grind; Industrial Eats; Vivid Financial Management; Christine Collier; David Carey DDS; The Church of Jesus Christ of Latter-day Saints; Sue McIntyre; McDonalds; Hilton Garden Inn; Anita Macias; a collaboration of 18 wineries--Alma Rosa, Ampelos, Chanin, Fiddlehead, Flying Goat, Garcia, Kings Carey, Kita, Longoria, Loring, Pali, Piedrasassi, Sandhi, Santa Barbara Winery, Sea Smoke, Sweetzer, Temperance and Transcendence; CoastHills Credit Union; CenCal Health; Dunn School; American Host; Kateri and Chris Kingsley; Katherine Milham; Sweet Bliss Sugar Scrubs and Co.; Carol Kirkland; Dr. Iris Radler; Donna Bommersbach; Patricia Henry; Nancy Manes; Annamie Lafferty; Marilyn Romine; Courtney & Mitch Barnham; Ida Kreds; Ingrid Kaper; Judy Carpenter; Space X; Lompoc Oral and Maxillofacial Surgery; Santa Barbara Foundation; Lompoc Hospital District Foundation; Lompoc Unified School District; Lompoc YMCA; Floriano's Mexican Food; Circle K; Keller Williams Realty of Lompoc; Girl Scouts of Lompoc; Arbonne independent distributors; Orcutt Bakery; Northrop Grumman; L3Harris Technologies; Astrotech Corp.; Harbor Freight; Home Depot; Direct Relief; Heath Dental; CHC Dental; Mikowicz Dental; Kimberly Nails; Not Alone Plumbing; Artisan Uprising Winery/Azeo Distillery; Starbuck's Store 496; Tom's Burgers; Super Grill; Sign Gypsies Central Coast.
Our frontline healthcare workers, support staff, physicians, and allied health professionals have been doing an outstanding job, and we are very thankful and proud of them!! Thank you, Lompoc Valley Community, for your tremendous support of LVMC and our healthcare workers; it means a lot to all of us!!
As always, please feel free to contact me at popkins@lompocvmc.com or (805) 737-3301. Until next time, be well and stay safe!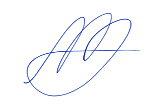 Steve Popkin
Chief Executive Officer