LVMC Community Update, October 9
Dear Lompoc Valley Community:
What happened on this date in history?
1701 - Yale University (originally named Collegiate School of Connecticut), chartered in New Haven. 1888 - Built-in 1848 and dedicated in 1885, the Washington Monument, honoring the first president, George Washington, opened to the public in Washington, D.C. 1940 - John Lennon was born, in Liverpool, England. (He would have turned 80 today!
COVID-19 Information
Factoids:
A study of 5,700 patients hospitalized with Covid in the New York City area showed the most common comorbidities: Hypertension– 56%; Obesity – 41.7%; and Diabetes – 33.8% (The Santa Barbara County Public Health Department is compiling and preparing to release data regarding comorbidities of patients hospitalized in Santa Barbara County.)
Based on a study of 1,122 patients in 88 U.S. hospitals, there was a 28.8% mortality rate among the 184 patients with diabetes or uncontrolled hyperglycemia, versus 6.2% for patients without those comorbidities.
In New Zealand, four trained dogs have been deployed at the Helsinki airport to offer free Covid "sniff tests." It is part of a study by the University of Helsinki researchers, with the dogs delivering nearly 100% accuracy, even detecting asymptomatic cases. (There are some jokes that come to mind, but I will refrain.)
In California, the number of new daily cases peaked on July 22, with 12,162 new cases. Subsequently, the number of new cases declined to a low of 5,023 new cases on August 4. Then, with a second wave, the number of new cases increased to a second peak on August 11, with 11,811 new cases (still below the first peak on 7/22). Since then, new cases have declined significantly, to a low of 3,085 on October 6. This represents the fewest number of new cases since June 9.
For these next two sections, I may be the only one reading this that finds it interesting. But, if you're a "Covid Junkie," maybe you will, too.
To give you an idea of the order in which Covid seems to be traveling across the country, shown below, by State in ascending order, is the date on which the daily number of new Covid cases peaked:
New Jersey: April 3
New York: April 4
Vermont: April 4
Connecticut: April 22
Colorado: April 24
Massachusetts: April 24
Rhode Island: April 25
Delaware: April 26
Pennsylvania: April 30
Maryland: May 18
Maine: May 20
Michigan: June 4
Arizona: June 29
Georgia: July 10
Florida: July 12
Washington: July 13
Nevada: July 16
New Mexico: July 22
California: July 22
Louisiana: July 26
Alaska: July 26
Mississippi: July 30
Ohio: July 31
Tennessee: July 31
Virginia: August 7
Hawaii: August 13
Indiana: August 24
Iowa: August 27
Kentucky: September 3
Illinois: September 4
West Virginia: September 11
North Dakota: September 18
Texas: September 20
South Carolina: September 22
Arkansas: September 23
Alabama: September 25
North Carolina: September 25
Oregon: September 25
Minnesota: September 26
Wyoming: September 27
Idaho: September 28
Kansas: September 28
Nebraska: October 2
New Hampshire: October 2
Wisconsin: October 3
Utah: October 4
Oklahoma: October 6
Missouri: October 7
Montana: October 7
South Dakota: October 7
Now, to give you an idea of how Covid seems to be traveling around the world, shown below, for a sampling of countries in ascending order, is the date on which the number of new daily Covid cases peaked.
China: February 11
Italy: March 21
Germany: March 28
Switzerland: April 3
New Zealand: April 5
United States: July 16
Brazil: July 29
Hong Kong: July 30
Japan: August 2
Mexico: August 2
Belgium: August 10
Philippines: August 10
Spain: September 18
Denmark: September 25
Israel: September 30
United Kingdom: October 4
Canada: October 5
France: October 7
Russia: October 7
Iran: October 8
Conclusions regarding the above two sections: I have no idea!
Covid Positive Hospitalized Patients
Last week I reported that there were 17 hospitalized patients at hospitals within Santa Barbara County, which represented a large decrease over the past several weeks. This week the number of hospitalized patients remained flat. I would call that good news, as it remained flat at a relatively low level. Currently, and for the past week, there are no Covid positive patients at LVMC.
Flu Shots
Remember to get your flu shot! Santa Barbara County Public Health Department held its free flu shot event in Lompoc earlier this week. They had such a big turnout that they ran out of vaccine. LVMC was pleased to be able to provide additional vaccines to the Public Health Department so they could meet the demand of everyone who showed up for a flu shot.
Thank you, Lompoc Valley Community, for your tremendous support of LVMC and our healthcare workers; it means a lot to all of us!
As always, please feel free to contact me at popkins@lompocvmc.com or (805) 737-3301. Until next time, be well and stay safe!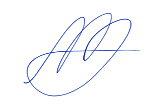 Steve Popkin
Chief Executive Officer