LVMC COVID-19 Community Update, May 1, 2020
Dear Lompoc Valley Community:
Below, please find an update regarding the COVID-19 situation from the Lompoc Valley Medical Center perspective.
COVID-19 Patient Volume from the Lompoc Valley Community (figures below exclude the Federal Correctional Complex)
Since the last update, regrettably, there has been one death (the only death to date) of a resident of the Lompoc Valley. This person was never admitted to Lompoc Valley Medical Center but was hospitalized outside of Lompoc. Although we do not know the identity of the individual, we give our deepest condolences to the family of the deceased.
Presently, there is one COVID-19 positive inpatient at LVMC from the Lompoc Valley Community. Although we are not aware of any residents being hospitalized elsewhere, that possibility exists.
Based upon Santa Barbara Public Health Department data, the Lompoc Valley Community represents 21.5% of the County's COVID-19 positive test results (84 of 390); 4.2% of currently hospitalized patients (1 of 24); 12.5% of deaths (1 of 8); and 13.7% of the population.
Federal Correctional Complex (FCC)
Work reportedly continues on the establishment of a "field hospital" at the FCC. There have been conflicting media reports regarding the level of care to be provided at the field hospital. Some reports said the field hospital will be for ICU patients only; others said it will be for low and medium acuity patients, without ICU Capabilities. FCC Leadership clarified that it will be for non-ICU patients. As of late last week, FCC Leadership was not able to provide a timeframe for the field hospital being operational. Some good news: for at least two weeks in a row, the number of hospitalized inmates has decreased.
Resumption of Non-Emergent Surgeries and Procedures
Elective surgeries at all California hospitals had been suspended due to the COVID-19 pandemic. Based upon guidance from the Santa Barbara County Public Health Department, California Department of Public Health, and other regulatory entities, it is now appropriate to resume performing non-emergent but essential surgeries and procedures.
LVMC will begin performing such surgeries on Thursday, May 7. (Other area hospitals are planning to begin doing so during the week of May 4, as well.) We will start with a reduced surgery schedule and then ramp-up as soon as possible. Endoscopic procedures will resume on May 11, with a reduced schedule.
Three days prior to their surgery or procedure, patients will have a COVID-19 test along with their other preoperative testing. If the test result is positive, the surgery will be postponed. Patients will self-isolate from the time of the test until the time of their surgery. Enhanced infection prevention protocols will be in place for the safety of patients, staff, and physicians.
The scheduling of certain diagnostic radiology procedures, such as screening mammograms, had also been postponed. The postponement has been lifted, and all radiology services are now available at the LVMC hospital site.
During this pandemic, some community members have avoided coming to the Emergency Room, unless necessary. We now encourage you to seek Emergency Room care if you feel you have a potentially emergent situation. We have implemented enhanced infection prevention and patient protection protocols, and we believe you should not hesitate to seek emergency care if needed.
Lompoc Health Telehealth and In-Person Visits
During the COVID-19 pandemic, we have initiated our Telehealth visit service with more than 30 Providers in 11 specialties. While telehealth visits are still available and encouraged, we are now fully resuming in-person Lompoc Health clinic visits, while employing enhanced infection prevention protocols. Whichever method you choose—telehealth or in-person—Lompoc Health will be there to serve you. Those wishing to schedule a telehealth visit or in-person visit should call the Lompoc Health Customer Care Department at (805) 737-8700 for North H Center, and (805) 736-1253 for North Third Center. For a Counselor visit, please call (805) 875-8850.
COVID-19 Testing Capabilities
Despite our best efforts, we are still waiting to receive the necessary supplies in order to provide on-site testing. Although it is premature to discuss details, there are efforts occurring with a local commercial laboratory which would significantly enhance the testing capabilities for LVMC and Lompoc Health. We hope this alternative will be in place in less than a month.
Out-of-Pocket Costs for COVID-19 Tests
Medicare and most health plans have indicated that their members will not have out-of-pocket costs for COVID-19 tests. The details of how this is implemented are ill-defined. Our understanding is that the testing facility does its normal billing procedure, and the health plan does the special claims adjudication on its end. Nonetheless, we want to make sure our community members are not disadvantaged. So, if you received a bill from LVMC or Lompoc Health showing out-of-pocket costs for COVID-19 testing, please feel free to contact the LVMC Administration Office, and we will do our best to resolve the situation.
Donations
A huge thank you to the following businesses and individuals who have made donations of Personal Protective Equipment and supplies, food for our healthcare workers, and other acts of kindness. You are all very much appreciated!!
Industrial Eats; Vivid Financial Management; Christine Collier; David Carey DDS; The Church of Jesus Christ of Latter-day Saints; Sue McIntyre; Cajun Kitchen; McDonalds; Hilton Garden Inn; Anita Macias; a collaboration of 18 wineries--Alma Rosa, Ampelos, Chanin, Fiddlehead, Flying Goat, Garcia, Kings Carey, Kita, Longoria, Loring, Pali, Piedrasassi, Sandhi, Santa Barbara Winery, Sea Smoke, Sweetzer, Temperance and Transcendence; CoastHills Credit Union; CenCal Health; Dunn School; American Host; Kateri and Chris Kingsley; Katherine Milham; Sweet Bliss Sugar Scrubs and Co.; Carol Kirkland; Dr. Iris Radler; Donna Bommersbach; Patricia Henry; Nancy Manes; Annamie Lafferty; Marilyn Romine; Courtney & Mitch Barnham; Ida Kreds; Ingrid Kaper; Judy Carpenter; Space X; Lompoc Oral and Maxillofacial Surgery; Santa Barbara Foundation; Lompoc Hospital District Foundation; Lompoc Unified School District; Lompoc YMCA; Floriano's Mexican Food; Circle K; Keller Williams Realty of Lompoc; Girl Scouts of Lompoc; Arbonne independent distributors; Orcutt Bakery; Northrop Grumman; L3Harris Technologies; Astrotech Corp.; Harbor Freight; Home Depot; Direct Relief; Heath Dental; CHC Dental; Mikowicz Dental; Kimberly Nails; Not Alone Plumbing; Artisan Uprising Winery/Azeo Distillery; Starbuck's Store 496; Tom's Burgers; Super Grill; Sign Gypsies Central Coast, (if I missed anyone I apologize and will update next time!)
Our frontline healthcare workers, support staff, physicians, and allied health professionals have been doing an outstanding job, and we are very thankful and proud of them!! Thank you, Lompoc Valley Community, for your tremendous support of LVMC and our healthcare workers; it means a lot to all of us!!
As always, please feel free to contact me at popkins@lompocvmc.com or (805) 737-3301. Until next time, be well and stay safe!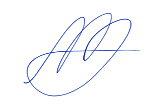 Steve Popkin
Chief Executive Officer