LVMC Community Update, November 6, 2020
Dear Lompoc Valley Community:
What happened on this date in history?
1869 – The first U.S. college football game was played: Rutgers 6; Princeton 4.
1947 - NBC's "Meet the Press" debuted—the United States' longest-running TV show.
1968 - Richard Nixon won a close contest for president over Hubert Humphrey and became the 37th president of the United States.
COVID-19 Information
California Covid Testing
As of November 5, there had been 19.27 Million Covid tests performed in California. That number includes 85,351 tests performed in the past 24 hours (from 11/5/20).
Covid Testing Turnaround Time
The turnaround time for Covid test results in California and in Santa Barbara County remains very short and very good. In California, for the period 10/8/20 – 10/24/20, the average turnaround time was 1.3 days. 66% of test results were received in 1 day; 90% of tests were received in 2 days or less. Because of the increased testing capacity and the short turnaround time, the State and Counties will no longer be using a tiered testing priority system; all Covid tests will receive the same priority.
Positivity Rate
For California, the 7-day average Covid positivity rate is 3.4%. Santa Barbara County has a lower positivity rate than California. For Santa Barbara County, the 7-day Covid positivity rate is 2.2%. That equates to a 35% lower rate than the State overall.
County Tier System
Santa Barbara County is currently in the Red Tier and has been for the past five weeks. The County's positivity rate easily meets the Orange Tier criteria and just about meets the Yellow Tier (the best tier) criteria. The County also meets the Orange Tier criteria for Health Equity (the definition of Health Equity was provided in a prior letter). However, as previously discussed, the County does not meet the Orange Tier criteria for new Covid cases per 100,000 population. We need to be below 4. That would equate to an average of 16 or fewer new Covid cases per day. Currently, the County is at 4.6, which is up from 4.2 and 4.3 for the past two weeks respectively. One provision of the Tier System that is not often mentioned is that if a county's positivity rate and health equity metric are in the Yellow Tier for two consecutive weeks, then the county will advance to the Orange Tier regardless of whether it meets the Orange Tier criteria for new cases per 100,000 population criteria. Bottom line, we are still in the Red Tier and will be for at least a few more weeks.
Covid Positive Hospitalized Patients
As of yesterday, there were 14 Covid positive inpatients at hospitals in Santa Barbara County (1 of the 14 is at LVMC). Although this is up from 9 last week, it is still considered a low number. To get an idea of the relative numbers, Santa Barbara County represents approximately 1.05% of the California population. With 14 of the 3,462 currently hospitalized Covid inpatients in the State, Santa Barbara County represents 0.4% of California's Covid hospitalizations. This means that Santa Barbara County has a hospitalization rate of approximately 60% lower than California overall.
Effectiveness of Wearing Masks
Yesterday, in a discussion with the Santa Barbara Public Health Department, I asked if there was any new research regarding the effectiveness of masking to slow the spread of Covid. I was forwarded an article that summarized the research done at the University of Kansas. To "summarize the summary," after controlling for variables such as social distancing compliance, etc., counties in Kansas that implemented a mask mandate had roughly half as many Covid cases per capita than those counties that did not (7 new cases per day per 100,000 population for counties that implemented a masking mandate versus 14 new cases for those that did not). So, keep wearing those masks!
Thank you, Lompoc Valley Community, for your tremendous support of LVMC and our healthcare workers; it means a lot to all of us!
As always, please feel free to contact me at popkins@lompocvmc.com or (805) 737-3301. Until next time, be well and stay safe!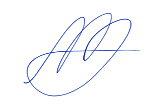 Steve Popkin
Chief Executive Officer