LVMC Community Update, April 16, 2021
This week our CEO updates the community on the current state of COVID-19, vaccine distribution, and our transition to the State's MyTurn scheduling/registration system.
Dear Lompoc Valley Community:
What happened on this date in history?
1922 – Annie Oakley set the women's record by breaking 100 clay targets in a row.
1962 – Walter Cronkite began anchoring CBS Evening News.
1993 – The jury reached a guilty verdict in the federal case against police officers (two convicted, two acquitted) who beat Rodney King, but the verdict was not read until April 17.
Quote of the Week
"Everybody is a genius. But if you judge a fish by its ability to climb a tree, it will live its whole life believing that it is stupid." — Albert Einstein
COVID-19 Information
Based on the figures for Adjusted New Cases, Positivity Rate, and Health Equity, Santa Barbara County currently meets the statistical requirements to advance from the Red Tier to the Orange Tier. However, the County must continue to maintain Orange Tier levels for two consecutive weeks in order to advance. So, we are in a holding pattern for a bit longer. There is not a lot that changes when attaining Orange Tier status, but nonetheless, we are tired of hanging in the Red Tier with San Luis Obispo County, we want to be with the cool kids in Ventura County, in the Orange Tier. Just for your information, there are currently 2 California counties in the Yellow Tier (the best tier); 32 counties in the Orange Tier; 24 counties in the Red Tier; and 0 counties in the Purple Tier.
At 1.7%, California continues to have the lowest Covid positivity rate of any state in the country. Santa Barbara County has a similarly low rate of 1.9%.
There are currently 15 Covid positive hospitalized patients in Santa Barbara County. That is a very low number. There are no Covid positive inpatients at LVMC or at the CCC.
At 22.67%, California ranks 36th out of the 50 states in regard to the percent of the population (entire population, not just 16+) that is fully vaccinated. Santa Barbara County is virtually the same, at 22.9%. (The percentage that has received at least one dose of vaccine is considerably higher.) Last week, the percentage of the Santa Barbara County population that is fully vaccinated trailed that of California overall by a few percentage points. This week Santa Barbara County has caught up and hopefully will continue to outpace the State overall going forward.
South County is outpacing Central and North County regarding the percent of population that is fully vaccinated. It is 27.2% for South County, 18.6% for Central County (which includes Lompoc), and 17.8% for North County.
For vaccine doses where the race/ethnicity of the recipient is known, in Santa Barbara County, the following shows the percent of vaccine doses received versus the percent of County population (rounded to the nearest percentage point). Hispanic/Latino: 45% of doses versus 48% of population; White: 48% of doses versus 43% of the population; Asian: 5% of doses versus 5% of population; Black/African American: <1% of doses versus 1.6% of the population; all other races/ethnicities had less than 1% of doses and less than 1% of the population.
During this 2020-2021 flu season there have been zero hospitalized patients with a flu diagnosis. There have been 1,791 flu tests administered, and all have come back negative. There have been positive flu tests on an outpatient basis, but the incidence of positive flu tests is dramatically lower than during the past two flu seasons.
Vaccinations
This week we administered the first vaccine doses on Monday and Tuesday, and second doses Wednesday through Friday. The vaccine appointments on Monday and Tuesday were the first ones scheduled through the State's MyTurn scheduling/registration system. After a short ramp-up period, no issues were encountered, and the vaccination clinics ran smoothly and efficiently.
Going forward, all first dose vaccination appointments at LVMC must be scheduled through MyTurn, at myturn.ca.gov. Everyone age 16 and older are eligible for a vaccination. If you have questions about the MyTurn system or do not have internet access, you may call 1-833-433-5255 to hear recorded information and/or speak with a representative.
Those who did not schedule their first dose through MyTurn do not need to schedule their second dose through MyTurn. Simply return to LVMC on the date shown on the back of your Vaccination Record Card, at approximately the same time as your first dose appointment, and you will receive your second vaccine dose.
Those who schedule a first dose appointment through MyTurn will also, at the same time, schedule a second dose appointment.
LVMC will be conducting vaccination clinics on Monday, April 19 through Friday, April 24. We will be administering approximately 400 Pfizer doses each day, or 2,000 doses for the week. As of now, there are still appointments available for Tuesday through Friday.
Thank you for your continued support, and as always, please feel free to contact me at popkins@lompocvmc.com or (805) 737-3301. Until next time, be well and stay safe!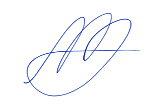 ​
Steve Popkin
Chief Executive Officer