LVMC Community Update, December 3, 2021
This week our CEO updates the community on Vaccination Clinics, Omicron, Hospitalizations, our new Physician of the Year, and more.
Dear Lompoc Valley Community:
What happened on this date in history?
1956 – Basketball icon, Wilt Chamberlain, made his much-anticipated varsity debut, scoring 52 points and grabbing 31 rebounds, breaking both all-time Kansas records in an 86-69 win against Northwestern.
1967 – The first human heart transplant was performed in South Africa by Dr. Christiaan Barnard, on Louis Washkansky (this seems like a HIPAA breach).
1989 – Soviet President Mikhail Gorbachev and the United States President George H. W. Bush, declared the Cold War over.
Quote of the week
"Happiness is like a butterfly; the more you chase it, the more it will elude you, but if you turn your attention to other things, it will come and sit softly on your shoulder." --Henry David Thoreau
COVID-19 and Vaccinations
Vaccination Clinics
We continue holding vaccination clinics at the hospital every Wednesday for children aged 5-11, at 12:30 – 2:30 pm and 5:30 – 7:30 pm.
For community members age 12 and older, we continue holding vaccination clinics at the hospital every Thursday from 12:30 to 2:30 pm, and every Friday from 12:30 to 6:00 pm.
At the vaccination clinics, we will be offering first doses, second doses, booster doses, and "additional doses." Currently, we have all three vaccine brands in stock.
For all vaccination clinics, appointments may be scheduled at myturn.ca.gov and walk-ins are welcome. With booster doses now available to anyone 18 or older, and the emergence of the new Omicron variant, demand for vaccinations has increased. For example, for the first time in a long time, all the MyTurn appointment slots for today's vaccination clinic are full. That is well over 400 appointment slots. We still accept walk-ins. It takes about 30 seconds to do on-site registration for an individual who has an appointment, versus about five minutes for walk-ins. So, for your convenience and to keep your wait time down, we recommend scheduling an appointment. Historically at our vaccination clinics, we have had about 50% with appointments, and 50% walk-ins. For a variety of reasons, the average age of those seeking vaccination is declining. That has coincided with a higher percentage of individuals now scheduling appointments (the younger population more tech-savvy we presume??). For the last couple of weeks, we have experienced about 60% with appointments, and we expect that percentage to increase.
Vaccination Figures
3% of the county population 5 and older have had at least one vaccine dose, versus 73% two weeks ago.
4% of the county population 5 and older are fully vaccinated, versus 65.5% two weeks ago.
9% of the entire county population has had at least one vaccine dose, versus 68.6% two weeks ago.
5% of the entire county population is fully vaccinated, versus 61.6% two weeks ago.
As of two days ago, 67,693 booster doses have been administered in the county.
Covid Facts, Figures, and Commentary
Over the past 1.5 months, the county Covid daily case rate has gone up and down but has stayed within a fairly tight range. The daily case rate trend line for unvaccinated individuals has moved up and down in a similar manner to that of vaccinated individuals, except that, as of the last date reported on the trend graph (11/23/21), unvaccinated individuals had 5.5 times (550%) higher Covid daily case rate. By way of example, vaccinated individuals in the county had 3.6 new Covid cases per day, per 100,000 population, while unvaccinated individuals had 19.7 new Covid cases per day per 100,000 population. That is a significant difference!
As of December 2, the two states with the greatest increase in Covid cases are Wisconsin and Illinois.
Due to a court injunction, the Federal vaccination mandate for healthcare workers has been halted. However, the similar State of California vaccination mandate for healthcare workers remains in effect, until further notice.
If you have been watching the news about Omicron, you know as much as anyone. There is no "inside info" to report. While on a Zoom meeting with some medical experts, I did pose a hypothetical question: If it turns out there will be a new Omicron vaccine early-to-mid next year, would getting an initial vaccination or booster dose now impact when one could receive the Omicron vaccine. The answer was that it is too soon to answer that question, but that it is still strongly recommended to get the initial vaccination or booster dose now.
Hospitalizations
Covid hospitalizations in the county have gone up some over the past two weeks, from approximately 28 two weeks ago, to 33 today. At LVMC, the number of hospitalized Covid patients has declined over the same period. There were 6, with 3 in ICU two weeks ago. Today, there are 4, with 0 in ICU.
Using LVMC Covid patients as "the universe," several months ago we were seeing that 20%-30% of hospitalized Covid patients were vaccinated ("breakthrough cases"). However, in recent months, almost 100% of hospitalized patients had been unvaccinated.
LVMC Potpourri
Congratulations to Dr. Khawar Gul for being chosen Lompoc Valley Medical Center Physician of the Year, by a vote of LVMC employees.
Congratulations to Dr. Michael Gill, and Dr. William Gausman on their retirements at the end of the year, and a huge thank you to them for their tremendous contributions to Lompoc Valley Medical Center and the Lompoc community.
Thank you for your continued support, and as always, please feel free to contact me at popkins@lompocvmc.com or (805) 737-3301. Until next time, be well and stay safe!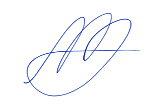 ​
Steve Popkin
Chief Executive Officer