LVMC Community Update, February 26, 2021
This week our CEO updates the community on the status of the CCC, COVID-19 vaccine, new COVID-19 cases and positivity rate.
Dear Lompoc Valley Community:
What happened on this date in history?
1919 – The Grand Canyon National Park was established.
2009 - The Simpsons tied Gunsmoke, the TV Western that ended in 1975, as the longest running TV series. The Simpsons has continued since then and in 2020 has concluded its 31st season on the air.
2013 - Retired American basketball player Dennis Rodman visited North Korea along with three members of the Harlem Globetrotters, during rising tensions between the US and North Korea.
Comprehensive Care Center
There continues to be no Covid positive residents at the CCC.
Vaccine
I try to wait until late in the day to write these Community Update Letters because at the pace things are changing, if I write it sooner, the information will be obsolete by the time you read it.
I have been informed by Santa Barbara Public Health Department that it is very likely that LVMC will ultimately be designated as a State vaccination provider. In baseball jargon, it seems that we are a "player to be named later."
LVMC has been, or will be by early next week, allocated 3,510 doses of Pfizer vaccine. All of this allocation will be used for first doses. Although we are not permitted to retain half of the allocation for second doses, it is fully expected that we will be allocated the vaccine needed to administer the second doses three weeks after the first doses.
Next Monday through Wednesday, we will be providing approximately 1,000 first dose vaccinations to those age 65 and older. If you are already on our waiting list, there is nothing more you need to do. You will be called when we have an appointment available for you. We will also be calling Lompoc Health patients to schedule appointments. However, Lompoc Health patients are also welcomed to place themselves on the waiting list. To do so, please email vaccine@lompocvmc.com or call (805) 875-8909. Please provide your name, phone number and date of birth.
Next Thursday through Saturday, LVMC will be administering approximately 1,000 first doses to educators and child-care workers. We will be doing this in cooperation with, and at the request of, Santa Barbara Public Health Department, which in turn is doing this in compliance with State directives. This will be the first "vaccination clinic" in Santa Barbara County specifically for educators and child-care workers. The scheduling of appointments will be handled by the school districts, not by LVMC. So, there is no need to contact LVMC regarding appointment scheduling. By the time you read this, a press release should have been issued by the Public Health Department providing as much detail as is currently available.
After the educator and child-care worker vaccination clinic is finished (a week from tomorrow), LVMC will use the remaining vaccine (approximately 1,300 doses) to continue administering first doses to those 65+. Again, we will be using a combination of our waiting list and Lompoc Health patient records to schedule appointments. Mid-to-late next week, we will begin making calls to schedule these appointments for the following week.
Last week I mentioned that Santa Barbara County is slated to go live with the State/Blue Shield appointment scheduling website, myturn.ca.gov, on March 15. This is no longer a firm date. Based on the uncertainty and fluidity, I will stop giving dates until things are set in stone.
Approximately 10% of the Santa Barbara County population has received at least one dose of vaccine, and approximately 5% have been fully vaccinated. If we remove the population under 18, and adjust for the approximately 30% who are declining the vaccine, then approximately 18% of the adult population who want the vaccine have received at least the first dose.
As of last week, the percent of Central County residents (which includes the Lompoc area) who were fully vaccinated was 2.7%, lower than North County and South County. As of this week, it increased to 5.2%, which is higher than North County (4.4%), and lower than South County (6.0%), and basically even with the overall County figure of 5.3%
Anyone who has an urgent question about vaccinations may email me at popkins@lompocvmc.com. I will reply as soon as possible.
Covid and Flu Information
New Covid cases, positivity rate, and hospitalizations have continued to decline in Santa Barbara County this week. LVMC currently has 8 Covid positive inpatients, 4 of which are receiving ICU care.
In Santa Barbara County the incidence of flu is significantly down compared to last year, both on an inpatient and outpatient basis. According to Public Health Department data, this year there have been 1,028 flu tests performed on hospital inpatients. All 1,028 were negative (0% positivity rate). Last year, the flu test positivity rate peaked during the week of February 7, at 28.3%.
Thank you for your continued support, and as always, please feel free to contact me atpopkins@lompocvmc.comor (805) 737-3301. Until next time, be well and stay safe!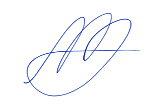 Steve Popkin
Chief Executive Officer