LVMC Community Update, February 5, 2021
This week, our CEO updates the community on the CCC status, Covid Vaccines, Covid Cases and Hospitalizations, our DAISY Award Winner, and more.
Dear Lompoc Valley Community:
What happened on this date in history?
1789 - George Washington was elected to serve as the first U.S. president by a unanimous vote in the first electoral college.
1974 - Newspaper heiress Patty Hearst was kidnapped by members of the Symbionese Liberation Army.
2004 - The website Facebook was launched (as TheFacebook.com).
Comprehensive Care Center
There continues to be no Covid positive residents or staff at the CCC.
Vaccine
I am happy to report that LVMC has secured all the vaccines needed to administer second doses to whom we have administered the first doses. In addition, we may have a very limited supply of vaccine available for new first doses. If so, we will contact individuals who are already on the appointment waitlist. Thank you to the Santa Barbara County Public Health Department for helping us get the vaccine needed for second doses.
For those of you who have received your first dose of vaccine, the date to return for your second dose is written on the back of your Vaccination Record Card. You should come at the same time as you did for the first dose appointment, although that time is not written on the card. If you do not recall the exact time of your first dose appointment, please make your best estimation, and come then.
There still have been very few details about how the State, through Blue Shield of California and now Kaiser, will determine the vaccination provider network and manage the vaccine distribution and administration. We do not even know whether or not LVMC will be a vaccination provider in the future.
We currently have about 800 individuals 75 and older on our vaccination waitlist. As we receive new allocations of vaccine, we will work through this list. However, due to the uncertainty about vaccine administration going forward, if those of you on the waitlist have an opportunity to get a vaccination from another provider other than LVMC, I advise that you pursue that opportunity.
Johnson & Johnson has produced a vaccine and has applied for emergency use authorization with the FDA. Hopefully, it will be approved for use very soon. This vaccine works differently than the Pfizer and Moderna vaccines. This vaccine only requires one dose, which is a big deal regarding expediting and simplifying the vaccination process. The "experts" recommend getting whichever vaccine you can, as soon as you can.
Anyone who has an urgent question about vaccinations may email me at popkins@lompocvmc.com. I will reply as soon as possible.
Covid Cases and Hospitalizations
For the seven-day period ending February 4, the number of new Covid cases in Santa Barbara County decreased 16% compared to the preceding seven-day period. This is consistent with a statewide trend of declining new Covid cases and hospitalizations.
The number of Covid positive inpatients at hospitals within Santa Barbara County continues to decline, albeit very slowly. The consensus is that we are now past the holiday surge of new Covid cases. However, since hospitalizations typically lag new cases by about two weeks, it is expected that it will be another two weeks or so before seeing a more significant decrease in Covid hospitalizations (of course, that is just the best guess).
DAISY Award Winner
LVMC recently joined the ranks of the more than 4,500 healthcare facilities and schools of nursing in 28 countries, who participate with "The DAISY Award." The DAISY Award is a Registered Nurse recognition program established by a family who lost their son to an autoimmune illness (ITP) after an 8-week hospital stay. The family wanted a way to do something to honor their son and recognize the extraordinary care the nurses brought to his bedside, day in and day out.
In the words of our Chief Nursing Officer, Yvette Cope, "LVMC's Daisy Committee reviewed many nominations written by patients, family members, Medical Staff, and peers. After the Committee review, we found that Thao Carey had received multiple nominations, each showcasing her absolute compassion, kindness, and sensitivity – which all made a world of difference to her patients and their families. It was a straightforward decision for the Committee to select Thao as LVMC's inaugural Honoree of The DAISY Award. Thao's compassion, kindness, and sensitivity are truly exemplary."
Congratulations and well done, Thao!
Donations
A huge thank you to the following businesses and individuals who have made donations of Personal Protective Equipment and supplies, food for our healthcare workers, and other acts of kindness. You are all very much appreciated!! (Ones in bold are new since the last listing.) Girl Scout Troop 50201; Pickle & Peanuts Restaurants/McDonald's; Santa Ynez Tribal Health Clinic; Wild West Pizza & Grill; George Stillman; Dr. Connie Chan; Vandenberg Village Lions; Direct Relief; Albertson's Store #3171—and those individuals who participated with Albertson's; Northrop Grumman; Southwest Carpenters Union; INTO THE AM CLOTHING LLC-Matt Marchione; Kathy Milham; Kimberly Todd; Vons Market; Celeste Dugré; Subway; Sleep Center; Doreen Ross; Lompoc Pizza Hut; Superior Home Health; Miguelito Elementary School; Cajun Kitchen; La Purisima Mission Mask Makers; Advanced Performance Physical Therapy; SONOS; Pickle & Peanut Restaurants Inc.; Jordano's; Lompoc Little Caesar's Pizza; Victoria Perez; Diana Coronado; Firework Foundation; The Daily Grind; Industrial Eats; Vivid Financial Management; Christine Collier; David Carey DDS; The Church of Jesus Christ of Latter-day Saints; Sue McIntyre; McDonalds; Hilton Garden Inn; Anita Macias; a collaboration of 18 wineries—Alma Rosa, Ampelos, Chanin, Fiddlehead, Flying Goat, Garcia, Kings Carey, Kita, Longoria, Loring, Pali, Piedrasassi, Sandhi, Santa Barbara Winery, Sea Smoke, Sweetzer, Temperance and Transcendence; CoastHills Credit Union; CenCal Health; Dunn School; American Host; Kateri and Chris Kingsley; Katherine Milham; Sweet Bliss Sugar Scrubs and Co.; Carol Kirkland; Dr. Iris Radler; Donna Bommersbach; Patricia Henry; Nancy Manes; Annamie Lafferty; Marilyn Romine; Courtney & Mitch Barnham; Ida Kreds; Ingrid Kaper; Judy Carpenter; Space X; Lompoc Oral and Maxillofacial Surgery; Santa Barbara Foundation; Lompoc Hospital District Foundation; Lompoc Unified School District; Lompoc YMCA; Floriano's Mexican Food; Circle K; Keller Williams Realty of Lompoc; Girl Scouts of Lompoc; Arbonne independent distributors; Orcutt Bakery; Northrop Grumman; L3Harris Technologies; Astrotech Corp.; Harbor Freight; Home Depot; Direct Relief; Heath Dental; CHC Dental; Mikowicz Dental; Kimberly Nails; Not Alone Plumbing; Artisan Uprising Winery/Azeo Distillery; Starbuck's Store 496; Tom's Burgers; Super Grill; Sign Gypsies Central Coast.
Thank you for your continued support, and as always, please feel free to contact me at popkins@lompocvmc.com or (805) 737-3301. Until next time, be well and stay safe!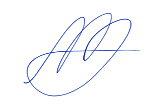 Steve Popkin
Chief Executive Office