LVMC Critical Care Nurse Recognized with Award for Extraordinary Care
Lompoc Valley Medical Center Registered Nurse Thao Carey has been recognized with The DAISY Award for Extraordinary Nurses. The prestigious international award is part of The DAISY Foundation's mission to recognize the extraordinary, compassionate nursing care provided to patients and families every day.
The not-for-profit DAISY Foundation was established in memory of J. Patrick Barnes by members of his family and honors nurses for making a profound difference in the lives of their patients and patient families.
Thao, who works in LVMC's Critical Care Unit, received a certificate which reads: "In deep appreciation of all you do, who you are, and the incredibly meaningful difference you make in the lives of so many people."
Patrick Barnes died in 1999 at the age of 33 from complications caused by ITP, or Idiopathic Thrombocytopenic Purpura, an auto-immune disease. DAISY is an acronym for Diseases Attacking the Immune System. The foundation was inspired by the care Patrick and his family received from nurses while he was ill.
One nomination noted her care of a Hospice patient and her interaction with the family. The family sent a thank you note to Thao, saying they were "so grateful for the kindness and compassion you showed my husband while he was under your care. Your dedication to your work and your patients is truly remarkable and something our family will always remember … Thank you for treating someone we all love with dignity and respect at the end of his life."
Another grateful nomination noted Thao's care of a COVID-19 patient who was ultimately transferred to another hospital. Her care of the patient and communication with the family "helped decrease anxiety and we will be forever grateful for her for helping us during her busy shift during a time of crisis (COVID). (Thao) is a nurse that cares deeply and makes a difference in the life of those she touches. Anyone receiving care from Thao is very lucky to have such a special and dedicated nurse."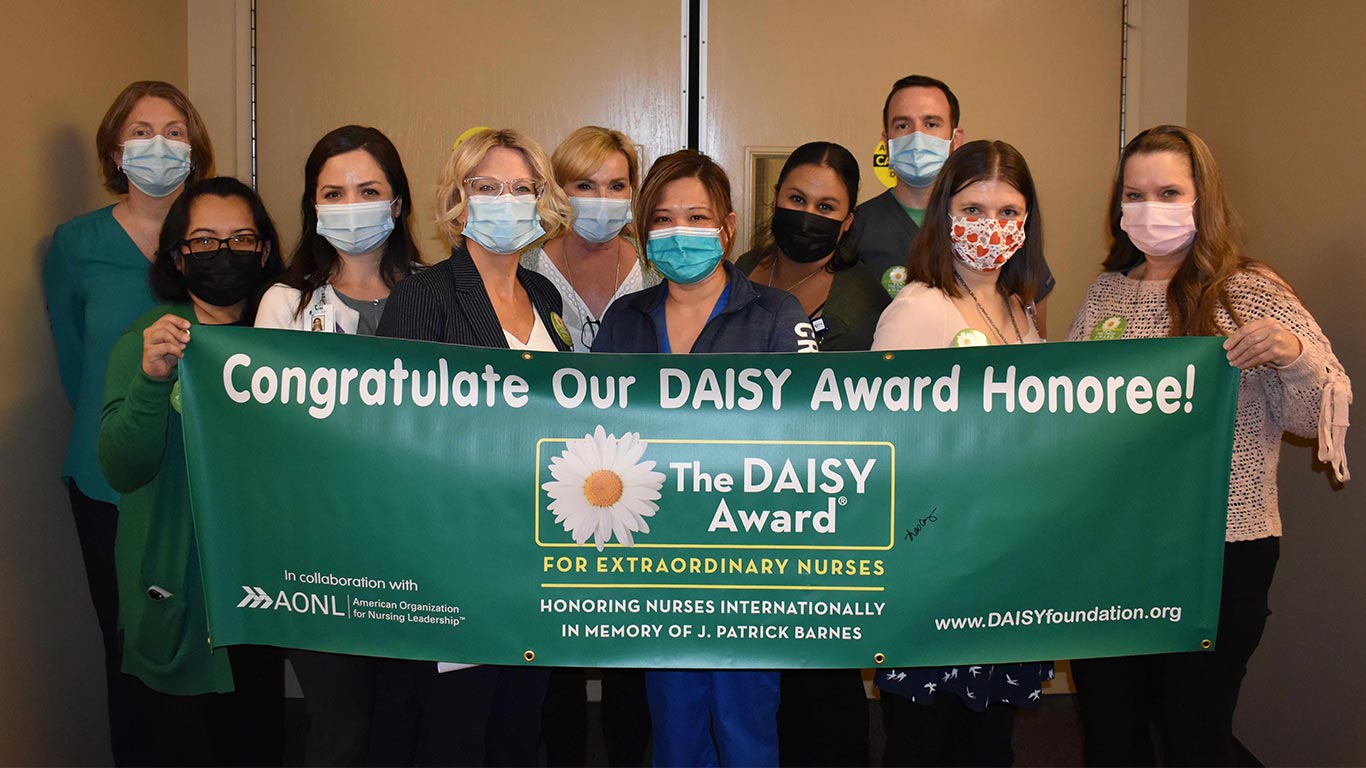 Nurses are nominated by patients, families, and colleagues. Thao was chosen as the recipient of the inaugural LVMC DAISY Award by a wide-ranging committee of LVMC, Comprehensive Care Center, and Lompoc Health clinical and non-clinical staff after an evaluation of all submissions. She received numerous nominations. She also received a DAISY Award pin and a sculpture called A Healer's Touch, hand-carved by artists of the Shona Tribe in Zimbabwe.
"Thao is an amazing nurse," said Senior Nursing Director Karen Kelly. "She not only provides excellent care for her patients and their families, but she also cares for her fellow nurses by always being there when they need a helping hand. She is the ultimate team player. Thao has been extremely helpful during this pandemic. She has worked more shifts than any nurse I know; she knew the need was great, and she stepped up to fill the need. She is very deserving of this prestigious nursing award."
Bonnie Barnes, CEO, and co-founder of The DAISY Foundation noted, "When Patrick was critically ill, our family experienced first-hand the remarkable skill and care nurses provide patients every day and night. The kind of work the nurses at Lompoc Valley Medical Center are called on to do every day epitomizes the purpose of The DAISY Award."
Lompoc Valley Medical Center Board of Directors Chairwoman Leslie Kelly is a former longtime Critical Care Unit nurse and acknowledged Thao's work.
"We do a lot of work in here (the CCU), so a lot of our work, people don't know about," Kelly said. "When I read all the fabulous things about you, first of all, I wanted to come work with you. I thought you must really be someone spectacular … The fact that you can impact so many people outside really says a tremendous amount for you."
Kelly said she is grateful LVMC employees do so much more than their job descriptions.
"We don't say to our nurses, 'You have to be compassionate, you have to be caring, you have to go the extra mile,'" Kelly said to Thao. "But obviously you do and obviously it makes a tremendous difference to the people that work with you and to the people you care for."
Thao earned a Bachelor of Science degree in biochemistry from San Francisco State University and previously was an analytical chemist and research assistant. After moving to Lompoc in 2007, she pursued a nursing career and attended the Certified Nurse Assistant program at Allan Hancock College. She became a CNA at the Comprehensive Care Center. In 2017, she earned a Bachelor of Science degree in nursing from California State University at the Channel Islands.
Two other LVMC nurses received certificates for outstanding nominations. Longtime Emergency Department Registered Nurse Bill Kelly was honored by a coworker for his efforts to calm a distressed and intubated patient who became combative during a fluoroscopy exam. Labor and Delivery Registered Nurse Marie Densmore was honored by a patient who was struggling with addiction and appreciated Marie's care.
More information about the award is available at daisyfoundation.org.