A Heartfelt Thanks to a Caring Community
Since the emergence of the COVID-19 virus, the Lompoc Valley Medical Center staff, the Comprehensive Care Center, and Lompoc Health sites have experienced the generosity of our community in unexpected and touching ways.
We are grateful for the gestures large and small by those showing support for healthcare employees – from free meals and baked goods to donations of personal protective equipment, mask extenders, and even the delivery of a pallet of locally grown produce to feed our employees and their families. The donors included children, individuals, organizations, small businesses, corporations, nonprofit organizations, and community groups.
There were touching and emotional gestures, such as handmade posters placed at the entrances of the hospital parking lot, to letters written by children to the large wooden "Thank You" sign on Seventh Avenue near the Emergency Department exit.
One large-scale gift to our employees came from some neighbors and was uniquely representative of the Lompoc Valley. Flying Goat Cellars proprietors Kate Griffith and Norm Yost teamed up with "Good Morning Lompoc" hosts Jeremy and Michelle Ball and Barbara Satterfield from the Sta. Rita Hills Winegrowers Alliance and got 18 local wineries to donate 400 bottles of wine for our staff.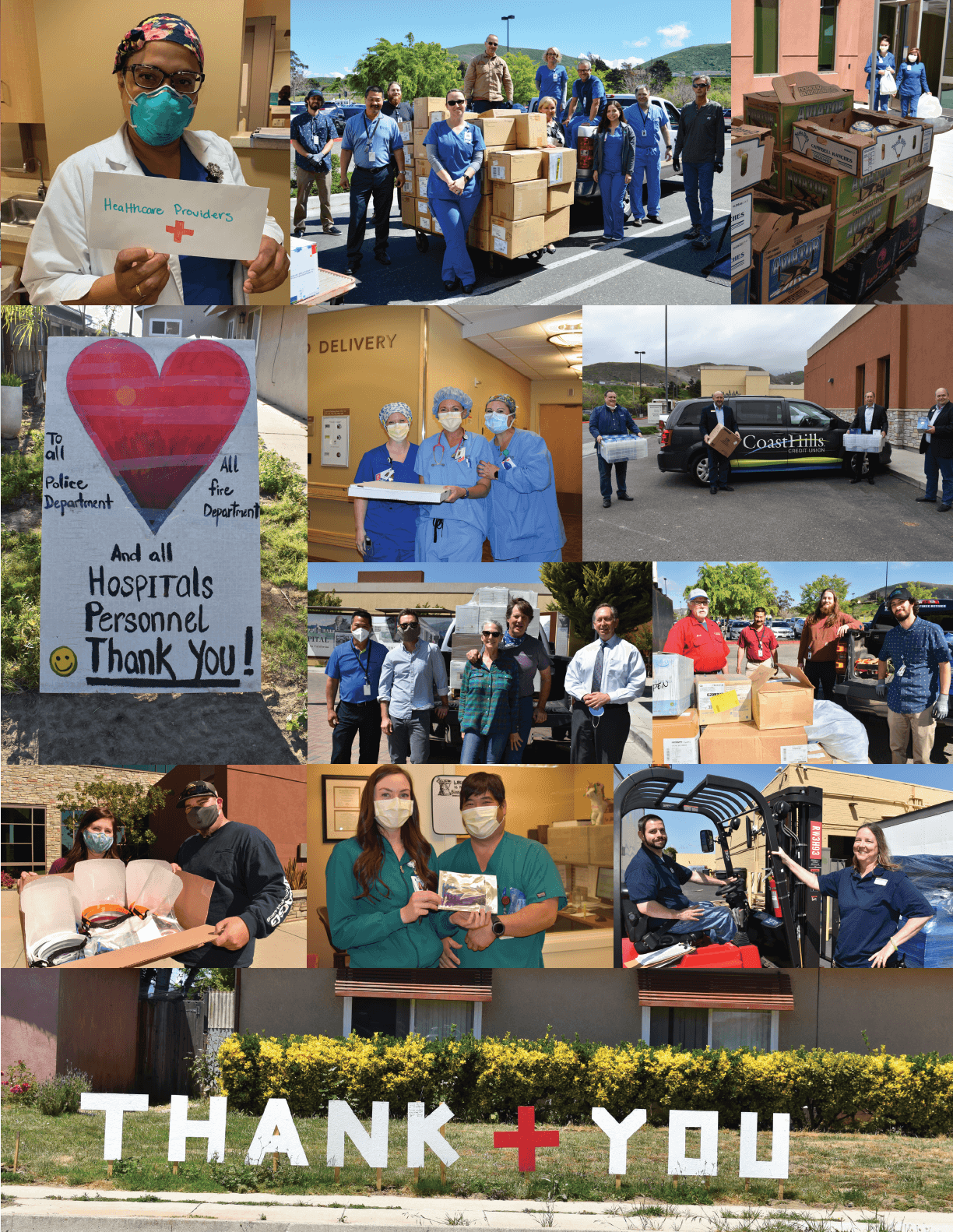 "We want to recognize their tireless work and express gratitude for all they do in our community with some liquid sunshine," Yost said of healthcare employees.
LVMC Chief Executive Officer Steve Popkin said recognizing the employees' hard work from those in the local wine industry was a "delightful surprise for our employees. We are grateful for their generosity."
Seeing so many donations to the staff also prompted our nursing staff from LVMC, Lompoc Health, and the Comprehensive Care Center to donate $3,000 to the Foodbank of Santa Barbara County to recognize Nurses Week.
In donating, the nurses recognized the tremendous outpouring of support the hospital district has received during the pandemic.
"We have such an amazing and compassionate community," said Chief Nursing Officer Yvette Cope. "Our nurses are proud and honored to give this donation to feed so many."
The community's acts of kindness, the words of support, the notes, the food, every donation, large and small, were all appreciated by our employees. Thank you, our donors and supporters, for helping us meet the challenge of COVID-19.
We are humbled and grateful.