LVMC Community Update, July 9, 2021
This week our CEO updates the community on COVID-1 booster shots, Covid indicators, County Vaccination Demographics, and LVMC's employees of the quarter.
Dear Lompoc Valley Community:
What happened on this date in history?
1877 – First ever Wimbledon tennis championship began. It was the first official lawn tennis tournament and was men's singles only.
1956 – Dick Clark's first appearance as host of American Bandstand.
1971 – Henry Kissinger visited the People's Republic of China to negotiate a détente between the United States and China.
1981 - Nintendo released arcade game Donkey Kong in Japan (July 31 in the United States).
Quote of the week
"It isn't what you have or who you are or where you are or what you are doing that makes you happy or unhappy. It is what you think about."
- Dale Carnegie
COVID-19
Things are going relatively well regarding Covid in the Lompoc area. But, throughout the state and the country one can feel the tension, as new Covid variants increase the likelihood of new outbreaks. Getting vaccinated does not guarantee 100% protection from Covid, but I know for me, when I got vaccinated, it meant that I did the single biggest thing I could do to protect myself and those with whom I come in contact. And, I have the peace of mind of knowing if I or a loved one got Covid, or worse, was hospitalized or died of Covid, I would not have the immense regret of knowing I had the opportunity to change that fate.
No need for a booster shot. Yesterday, the FDA and CDC said there is no need for people who have been fully vaccinated against COVID-19 to get a booster shot at this time. They said that people who are fully vaccinated are protected from severe disease and death, including from variants currently circulating in the country such as Delta. The agencies said they will continue working with the National Institutes of Health, in a science-based rigorous process to consider when a booster might be necessary.
Covid Indicators. The Covid indicator trends in California and Santa Barbara County are currently a mixed bag:

Positivity Rate.The Covid positivity rate for California is 1.3% versus 1.5% for Santa Barbara County. The positivity rate for the state and county has been creeping up and has more than doubled from a county low of 0.6% on May 31. The state rate of 1.3% puts California tied for 10th lowest (best) in the country. For a few weeks, California had the lowest positivity rate in the country. The state with the highest positivity rate is Kansas, at 21%.
Covid Deaths. There have been no Covid related deaths in Santa Barbara County during the past two weeks. Beginning on May 2, there were three consecutive weeks with no deaths, then five consecutive weeks with one death, and now back to two consecutive weeks with no deaths. Regarding the age of those who have passed away: ages 70+ represents 11% of the county population and 72% of deaths; ages 50-69 represents 22% of the population and 23% of deaths; ages 30-49 represent 24% of the population and 5% of deaths; ages under 30 represent 44% of the population and 0% of deaths.
Covid Adjusted Case Rate. The Covid adjusted case rate in Santa Barbara County on June 19 was 1.1 case per 100,000 population. On June 26 it increased to 1.6 cases. As of July 4, it is 1.4 cases, down from last week, but not as low as two weeks ago. Over the past two weeks, the number of new Covid cases in the country increased 5%. By comparison, the number of new cases in California increased 8%. There were 16 states that had greater percentage increases than California.
Covid Hospitalizations. At 8, the number of Covid hospitalized patients in Santa Barbara County remains low, particularly in the south and central regions of the county. This number represents a slight decrease from the prior week. There are currently no Covid positive hospitalized patients at LVMC. Despite the stable hospitalization figures for the county, California made the list of 21 states that are showing an upward trend in Covid hospitalizations. Over the past two weeks, California has seen a 12% increase in hospitalizations.
Vaccinations
Vaccination Clinic Schedule. LVMC continues to offer vaccinations to the public at its vaccination clinics held every Friday, at the hospital, from 12:30 pm to 2:30 pm. Appointments are available for ages 12 and older on MyTurn, and walk-ins are welcome. LVMC is the only hospital in Santa Barbara County still offering first dose vaccination clinics to the public. LVMC is also offering vaccinations to hospital inpatients and Emergency Room patients.
County Vaccination Percentages. 67.7% of the eligible county population (12+) has received at least one vaccine dose (up from 66.5% two weeks ago). 57.3% of the entire county population has received at least one dose (up from 56.3% two weeks ago). 59.3% of the eligible county population has been fully vaccinated (up from 57.5% two weeks ago). 50.2% of the entire county population has been fully vaccinated (up from 48.7% two weeks ago). Looking for some good news, we broke the 50% mark for the total population fully vaccinated.
County Vaccination Demographics.

Gender. Females represent 49% of the population and 56% of those vaccinated.
Ethnicity. (There are a significant number of vaccinations for which ethnicity is not known, so these percentages are not exact but provide the best estimates.) Hispanic/Latino represents 48% of the population and 27% of those vaccinated. White represents 43% of the population and 46% of those vaccinated. Asian represents 5% of the population and 3% of those vaccinated. Black/African American represents 2.5% of the population and 9% of those vaccinated.
LVMC Potpourri
Congratulations to our LVMC Employees of the Quarter for 1st Quarter 2021!!
Acute Hospital
Brenton Kraushaur, RN – Emergency Department
Comprehensive Care Center
Lucy Gomon, LVN
Lompoc Health
Nayeli Valdez, Medical Assistant – North Third Center
Thank you for your continued support, and as always, please feel free to contact me at popkins@lompocvmc.com or (805) 737-3301. Until next time, be well and stay safe!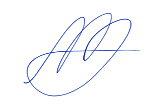 Steve Popkin
Chief Executive Officer