LVMC Community Update, March 19, 2021
This week our CEO updates the community on visitation policy revisions, the status of the hospital and CCC, and COVID-19 vaccinations.
Dear Lompoc Valley Community:
What happened on this date in history?
1918 - The US Congress approved daylight-saving time. Germany started the use of DST in 1916 and other countries followed suit.
1931 - The Nevada state legislature voted to legalize gambling hoping to bring much-needed money to the state during the worst of the depression years.
1953– The Academy Awards, held at the Pantages Theatre in Hollywood, debuted on television.
Visitation Policy Revisions
California Department of Public Health has issued new guidance for hospitals and skilled nursing facilities located in County's that are in the Red Tier, like Santa Barbara County. Using this guidance, LVMC has revised its visitation policies at both the hospital and the CCC. The policies are appropriately detailed, but the gist of the policies are as follows:
Hospital. For inpatients, two visitors from the same household are permitted. The visitors need not be designated in advance. For the Emergency Department, one visitor is permitted for adult patients, and two visitors for pediatric patients. For surgical patients, due to limited space for physical distancing, one visitor is permitted. In all of the above areas, exceptions may be considered for special circumstances and "special populations" (i.e., pediatric patients, patients with certain disabilities, and end-of-life situations).
CCC. Indoor visitation of residents will resume on March 23rd. All visitors will be screened at the front door and based on the vaccination status of both residents and the visiting family members, there will be the opportunity to visit with either physical distancing or with brief hugging or holding of hands. Meetings have been held to explain the new visitation protocol to family members. Please contact CCC Administrator, Lorraine Jones, with any questions.
Covid Status at LVMC (Hospital and CCC)
There continues to be no Covid positive residents at the CCC.
There is currently one Covid positive inpatient at LVMC. Over the past three weeks, LVMC has had either zero or one Covid positive inpatient.
Vaccine
Monday, Tuesday, and Wednesday of this week, LVMC administered vaccinations to food and agriculture workers. Thursday, Friday, and Saturday of this week, LVMC is administering vaccinations to educators and childcare workers. We also worked in individuals 65+ who were previously eligible but had not yet received a vaccination. (Food and Agriculture employers who would like to offer vaccinations to their eligible employees may contact us through the vaccination email or phone number shown below.)
Next week we will be doing all second dose vaccinations for individuals who received their first dose at LVMC and have a second dose appointment during next week, based upon the return date shown on the back of their Vaccination Record Card.
Beginning the week of March 29, we will be expanding appointment availability to all individuals 16 years of age and older with an applicable "high-risk medical condition or disability" as defined by California Department of Public Health. To place yourself on the appointment request list, please emailvaccine@lompocvmc.com or call (805) 875-8909. Please provide your name, date of birth, phone number, and indicate that you have a qualifying high-risk medical condition (please do not say the nature of the medical condition). An LVMC representative will call you as soon as possible to schedule an appointment. We will also be contacting Lompoc Health patients to offer appointments. However, Lompoc Health patients may also use the email address or phone number above to request an appointment if they rather not wait to be called. We do not know the exact amount of vaccine we will have available for this purpose, but it should be enough to make a good start at vaccinating this group of community members.
If you are under age 65, and eligible for vaccination due to your high-risk medical condition, you will be required to sign an attestation form at the time of vaccination. By signing the form, you will be attesting to having one or more of the qualifying conditions. You will not need a doctor's letter, and you will not need to provide proof of your high-risk medical condition. A copy of the attestation form that you will need to sign is posted on our website atwww.lompocvmc.com. The attestation form shows the detailed description of the high-risk medical conditions and disabilities. The State is considering additions to the list of conditions, and we will update our attestation form if and when the State does so. The high-risk medical conditions and disabilities (with abbreviated descriptions) are as follows:
Cancer (current with debilitated or immunocompromised state)
Chronic kidney disease (stage 4 or above)
Chronic pulmonary disease, oxygen-dependent
Down syndrome
Immunocompromised state from solid organ transplant
Pregnancy
Sickle cell disease
Heart conditions (excluding hypertension)
Severe obesity
Type 2 diabetes
A condition where you are likely to develop severe life-threatening illness or death from COVID-19 infection
Getting COVID-19 will limit your ability to receive ongoing care or services vital to your well-being and survival
Getting adequate and timely COVID-19 care will be particularly challenging as a result of your disability
As previously reported, LVMC is now contracted with the State, through Blue Shield of California, to provide vaccinations through the MyTurn appointment scheduling program. Although we are in appropriate communication with Blue Shield, we have not yet gone through the "onboarding process." We do not have a go-live date with MyTurn, but we expect that it will still be a few weeks away. We are letting Blue Shield go at their own pace, as it appears that until we go-live with MyTurn, we will continue being allocated vaccine by the County, and we will be able to continue doing our own appointment scheduling.
Last week I indicated that by today LVMC would be offering a free service to help community members navigate the MyTurn appointment scheduling system. Although we will still be doing this, we decided to wait until we have gone through the MyTurn onboarding process, so that we have full knowledge of the system. I will be sure to let everyone know when the service is available.
The Santa Barbara Public Health Department receives limited allocations of the Johnson & Johnson vaccine. Since this vaccine requires only one shot, it is mostly being reserved to vaccinate hard-to-reach individuals for whom scheduling and administering a second dose would be challenging. LVMC has not received any J&J vaccine to date, and we most likely will not in the future unless we are partnering with the Public Health Department to vaccinate the aforementioned individuals.
Thank you for your continued support, and as always, please feel free to contact me at popkins@lompocvmc.comor (805) 737-3301. Until next time, be well and stay safe!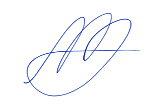 Steve Popkin
Chief Executive Officer