LVMC Community Update, March 5, 2021
This week our CEO updates the community on the status of COVID-19 Vaccinations, new COVID-19 cases, COVID-19 hospitalizations, and the status of the CCC.
Dear Lompoc Valley Community:
What happened on this date in history?
1558 – Smoking tobacco was introduced into Europe by Spanish physician Francisco Fernandes.
1946 – Winston Churchill delivered one of the first speeches condemning the expansion of communism in Europe and around the world, during which he coined the phrase, "The Iron Curtain" which was then used by many future politicians.
2013 – Dow Jones surpassed its 2007 pre-financial crisis level for the first time.
Comprehensive Care Center
There continue to be no Covid positive residents at the CCC.
Vaccine
Last week I said I would no longer indicate the date on which the State/Blue Shield appointment scheduling system (myturn.ca.gov) would go live for Santa Barbara County since the date has changed so often. Well, I can't help myself. The new date is March 31. Perhaps they did not want to start it a day later on April Fool's Day. We will see if the March 31 date sticks.
I have also been going back and forth saying that LVMC will, or will not, be a state-designated vaccination provider going forward, after the conversion to MyTurn. I have just received from Blue Shield a "Vaccine Provider Participation Agreement." So, at this point, I am almost 100% sure that LVMC will continue being a vaccination provider for the long haul.
During Monday through Thursday of this week, we administered approximately 1,200 vaccine first doses to individuals 65+. Then, beginning yesterday afternoon and going through Saturday we are administering about the same number of first doses to educators and childcare workers. The vaccination appointments for educators are being coordinated by the Santa Barbara County Education Office. With limited exceptions, appointments for childcare workers are being coordinated by the Santa Barbara County Public Health Department.
Beginning again next Monday, we will continue vaccinating community members 65 years of age and older. We currently have vaccination appointments available. To schedule an appointment, please email vaccine@lompocvmc.com or call (805) 875-8909. Leave your name, phone number, and date of birth. You will then be called to schedule an appointment.
The Public Health Department is currently developing and implementing its plan for vaccinating other groups in Tier 1B, including agriculture and food workers.
In Santa Barbara County there have been 63,957 vaccine first doses administered, and 35,205-second doses, for a total of 99,895 (LVMC is doing vaccinations as I am writing this, so by now it is over 100,000).
California ranks 32nd in vaccine administered as a percent of vaccine received. That is an improvement from 48th place a few weeks ago. California has administered 74.5% of the vaccine received. That compares to 81.3% for Santa Barbara County.
7.6% of Santa Barbara County residents have been fully vaccinated. Approximately 15% of residents have had at least one dose. However, when removing the population under 18, and applying an assumption about the percent of adults who will decline the vaccine, approximately 27% of Santa Barbara County residents who will eventually receive a vaccination have already received at least one dose.
Comparing the three areas of the County: 6.4% of North County residents have been fully vaccinated; 6.9% of Central County residents (including Lompoc Valley); and 8.8% of South County residents.
Covid-19 Information
All indicators (new cases, active cases, hospitalizations, deaths, positivity rate) continue going in the right direction for Santa Barbara County and the Lompoc Valley area.
New Covid cases in Santa Barbara County peaked on January 10 with 779 new cases reported. On March 1 there were 33 new cases reported.
To me, the number of Covid hospitalizations is the most important and relevant indicator. Although the Public Health website shows 53 Covid hospitalized patients, from first-hand knowledge as of this morning, there were 40 hospitalized patients in Santa Barbara County hospitals. This is the lowest number since the beginning of December. There are currently 3 Covid positive inpatients at LVMC.
Thank you for your continued support, and as always, please feel free to contact me at popkins@lompocvmc.com or (805) 737-3301. Until next time, be well and stay safe!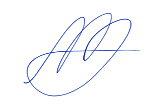 Steve Popkin
Chief Executive Officer