LVMC Community Update, May 21, 2021
This week our CEO updates the community on the new CDC guidelines regarding masking, COVID-19 numbers and hospitalizations, and our vaccination of Lompoc's students through the Lompoc Unified School District.
Dear Lompoc Valley Community:
What happened on this date in history? 
1881 – The American Red Cross was founded by Clara Barton.
1932 – After flying for 17 hours from Newfoundland, Amelia Earhart landed near Londonderry, Northern Ireland, becoming the first transatlantic solo flight by a woman.
1954 – The United States 26th Amendment giving 18-year-olds the right to vote was defeated.  The Amendment eventually passed and became law in 1971. 
1999 – All My Children star Susan Lucci finally won a Daytime Emmy after being nominated 19 times, the longest period of unsuccessful nominations in television history.
2017 – Barnum & Bailey Circus performed for the last time at the Nassau Coliseum, in New York City, after 146 years. 
Quote of the Week
"We generate fears while we sit. We overcome them by action."— Dr. Henry Link
COVID-19
Neither California nor Santa Barbara County have adopted the new CDC guidelines regarding masking. The state and county intend to do so effective June 15. Until then, it's business as usual (or business as unusual) regarding mask requirements. 
The most recent Covid two-week average indicators are going in the right direction, according to Santa Barbara County data.   In the county, the number of new Covid cases is down; the number of active cases is down; and the number of deaths remains at zero. The last Covid-related death in the County was during the week of April 25. The Covid positivity rate for the county is 1%. This compares to California overall at 0.7%, which is the lowest state positivity rate in the country.
The number of Covid hospitalizations in the county is currently 13.  This is slightly less than the number from last week but higher than the number from three weeks ago.  LVMC currently has 4 Covid positive inpatients. After having 0-1 positive inpatients for several weeks, the number increased to 6 about a week ago, before dropping back down to 4. Of the 4 inpatients, 1 is receiving ICU care.  Of the 4 inpatients, only 1 is age 65 or older. 
There remain no Covid positive residents at the CCC. 
Although the state's tier color system is for practical purposes moot, since it will go away on June 15, Santa Barbara County currently meets all the requirements for the yellow tier (the best tier). However, the county is not officially in the yellow tier because its current Adjusted Case Rate per 100,000 figure of 1.7, which is better than the required benchmark of 2, needs to be maintained for a two-week period.  The last reported two-week average was 2.1, barely above the benchmark. 
Vaccinations
51.9% of the Santa Barbara County population has received at least one vaccine dose. 41.8% are fully vaccinated.
61.3% of the eligible county population, has received at least one vaccine dose. 49.4% are fully vaccinated. These percentages were previously a little higher, but when the vaccine eligibility was expanded to 12+, the denominator increased and the resulting percentages decreased.
When each new age cohort becomes vaccine eligible (first the 16-17-year-olds, and now the 12-15-year-olds) there is a temporary spike in vaccination demand.  But, overall, the demand has diminished considerably. Some seem surprised by the diminishing demand, but it is to be expected, as over the past month any eligible person who wanted to be vaccinated could easily have gotten vaccinated. So, now we are dealing with the segment of the population that is on the fence about getting vaccinated, or for one reason or another has delayed the decision to get vaccinated. When it becomes clearer exactly what people who are vaccinated will be free to do in their daily lives, versus those who are not, there may be another spike in vaccination demand. 
Santa Barbara Public Health Department, in partnership with the Vaccination Providers, is using many different strategies to make vaccinations extremely accessible to hard-to-reach populations. This includes providing mobile vaccination clinics where these individuals live, work or congregate; allowing for walk-in vaccinations; providing vaccination clinics at schools, and many other strategies and tactics.  When the aforementioned 61.3% figure gets to about 75% of eligible individuals being vaccinated, I think round one of the vaccinations will be about done…we will see.
LVMC is partnering with Lompoc Unified School District (LUSD) to provide vaccinations for students ages 12 -18.   Each Wednesday, LUSD will transport students by bus to LVMC for vaccinations.  LUSD is coordinating the scheduling and obtaining parental consent. This will continue as long as LUSD feels the need exists.
On Monday, Tuesday, Thursday, and Friday of next week, LVMC will be administering first and second doses of Pfizer and Moderna vaccine. On Wednesday, we will be administering the single dose of Johnson & Johnson vaccine. All of these appointments are to be scheduled through MyTurn.  On Wednesday, we will also be vaccinating the LUSD students, as mentioned above. Individuals 12-17 may also schedule a vaccination appointment at LVMC though MyTurn, if they prefer that to scheduling through LUSD. 
Thank You
A big thank you to the following companies and organizations for their support and recognition of our employees during our Hospital Week celebration last week:
Lompoc Foursquare Church
Fiddlehead Cellars
Flying Gloat Cellars
Transcendence Wines
Nomad
American Host
La Botte Restaurant
Thank you for your continued support, and as always, please feel free to contact me at popkins@lompocvmc.com or (805) 737-3301.  Until next time, be well and stay safe!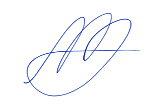 Steve Popkin
Chief Executive Officer