LVMC Community Update, May 7, 2021
This week our CEO updates the community on COVID-19 vaccinations in our county, Nurses and Hospital weeks, and Elon Musk, among other things.
Dear Lompoc Valley Community:
What happened on this date in history?
(It's a light Covid week, so we will do a few more events than usual.)
1906 -- "Temporary" permit was issued to erect overhead wires on Market Street, San Francisco, allowing United Railroads to run electric streetcars.
1915 – Babe Ruth hit his first home run, and pitched 12 innings, in the Boston Red Sox extra-innings loss to the New York Yankees.
1937 -- German airship Hindenburg exploded in flames at Lakehurst, New Jersey, killing 35 of the 97 onboard and one on the ground, ending the age of the Zeppelin (except for Led Zeppelin).
1941 – At California's March Field, Bob Hope performed his first USO show.
1960 – Unites Stated President Eisenhower signed the Civil Rights Act of 1960.
2002 – Entrepreneur Elon Musk founded SpaceX.
Quote of the Week
"Character isn't who you are when life goes your way. Character is who you really are when the bottom falls out." --Unknown
Vaccinations
This week we administered 775 vaccine doses. Next week we have approximately 1,800 individuals scheduled for second dose appointments.
This week, only about half of LVMC's available vaccination appointment slots were filled. Our experience is consistent with that of the Public Health Department and other Vaccination Providers throughout the county. Speaking more broadly, it is also consistent with what is occurring throughout the state and the country. Vaccination Providers in the county are beginning to reduce vaccination clinic days and hours to coincide with the demand for vaccinations.
As a point of information, there were only 57 takers for the 280 available doses of the Johnson & Johnson vaccine at our vaccination clinic this Wednesday.
Now, anyone who wants a vaccination can get a vaccination…quickly and easily. There is plenty of vaccine supply. Pfizer is the vaccine for which there is currently the most inventory.
The Public Health Department, in conjunction with the Vaccination Providers, are trying to develop and implement creative strategies to address vaccine hesitancy, and to make getting vaccinated so convenient that it will get the fence-sitters off the fence to get vaccinated. In one county (not in California) they had a person dressed up as a hypodermic needle, waiving people in to get vaccinated. In another county (not in California) they gave $50 Visa gift cards as an incentive to get vaccinated. We won't do that, but this weekend I will go buy a bunch of Lifesavers (candy) and give it to those who get vaccinated at LVMC since it is entirely possible that by getting vaccinated you could be a "lifesaver."
There are a lot of creative people out there. If you have a great idea (or even if you're not sure whether it's great) about how to generate more vaccination demand in the county, please let me know (I'll take credit for your idea…no I won't).
Now that we have more vaccine supply than there is demand, the Public Health Department and certain Vaccination Providers, like LVMC, are willing and able to work with groups to schedule special vaccination clinic days/times. For example, if you are a member of a church or other organization, that would like to have a vaccination clinic dedicated to your members, we can work with you to make such arrangements.
Next week, vaccination eligibility is expected to be revised from 16+ to 12+. This will create a new set of challenges, such as consent policies, vaccination site locations, transportation, etc. However, these challenges are minor in comparison to what we and others have addressed and overcome thus far.
LVMC Potpourri
Thank you to all of our fantastic LVMC nurses, as we celebrate Nurses Week!
Next week is Hospital week, where we will be celebrating our entire LVMC Team and the tremendous work they do day in and day out!
A big thank you to Four Square Church, in Lompoc, for the very generous donation of 350 "Impact Boxes" to honor our front-line staff for their invaluable work in LVMC's response to COVID-19.
Thank you for your continued support, it is very much appreciated. As always, please feel free to contact me at popkins@lompocvmc.com or (805) 737-3301. Until next time, be well and stay safe!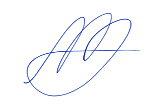 ​
Steve Popkin
Chief Executive Officer