LVMC Community Update, November 19, 2021
Dear Lompoc Valley Community:
What happened on this date in history?
1863 – President Abraham Lincoln delivered his Gettysburg address, beginning: "Four score and seven years…"
1895 – American Inventor, Frederick E. Blaisdell, patented the pencil.
1980 – CBS TV banned Calvin Klein jean advertisement featuring Brooke Shields.
Quote of the week
"You've got to get up every morning with determination if you're going to go to bed with satisfaction." --George Lorimer
COVID-19 and Vaccinations
Vaccination Clinics
Next week (the week of Thanksgiving) we will not be holding vaccination clinics at LVMC.
On Wednesday, December 1 (the Wednesday after Thanksgiving), we will be holding vaccination clinics for children aged 5-11, at 12:30 pm – 2:30 pm and 5:30 pm – 7:30 pm, at the hospital.
For community members age twelve and older, we will be holding vaccination clinics at the hospital on Thursday, December 2, from 12:30 pm to 2:30 pm, and Friday, December 3, from 12:30 pm to 6:00 pm.
We will be offering first doses, second doses, booster doses, and "additional doses." Currently, we have all three vaccine brands in stock.
Booster doses are now available to anyone 18 or older.
For all vaccination clinics, appointments may be scheduled at ca.gov and walk-ins are welcome.
Vaccination Figures
Now that children age 5-11 are vaccine eligible, the percentages have been recalibrated:
73% of the county population 5 and older have had at least one vaccine dose.
5% of the county population 5 and older are fully vaccinated.
6% of the entire county population has had at least one vaccine dose.
6% of the entire county population is fully vaccinated.
Covid Figures and Hospitalizations
To be rather vague: County Covid case rate is up a little, and Covid hospitalizations are down a little. LVMC currently has 6 of the approximately 28 Covid hospitalized patients in the county. 3 of the 6 are receiving ICU care.
LVMC Potpourri
Our Comprehensive Care Center earned "High Performing" designation by U.S. News and World Report for both short-term rehabilitation and long-term care, in its 2021-2022 Best Nursing Home ratings. This designation places the CCC among "the elite 13 percent" of all skilled nursing facilities in the nation. Congratulations to the entire Team at the CCC!!
On Tuesday evening of this week, the Lompoc Hospital Foundation held its Annual Meeting and presented LVMC with a check for $100,000.00, which will go toward the purchase of new patient monitors for the LVMC Perioperative Department. A special acknowledgment and thank you to Alice Milligan, who has served as President of the Foundation since its inception thirty-one years ago!!
Thank you for your continued support, and as always, please feel free to contact me at popkins@lompocvmc.com or (805) 737-3301. Until next time, be well and stay safe!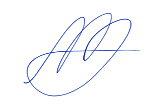 ​
Steve Popkin
Chief Executive Officer