LVMC Community Update, September 3, 2021
Our CEO updates the community on COVID-19 vaccination boosters, COVID-19 hospitalizations, and Santa Barbara County vaccination figures this week.
Dear Lompoc Valley Community:
What happened on this date in history?
1783 – Treaty of Paris, signed in Paris, ended the American Revolutionary War between Great Britain and United States of America.
1929 – Dow Jones Industrial Average reached an all-time high of 381, to be shortly followed by the Crash of 1929. (The Dow Jones is currently at 35, 353).
1995 – eBay (Electronic Bay) was founded by Pierre Omidyar.
Quote of the week
"In this life, we cannot always do great things. But, we can do small things with great love." -Mother Terresa
COVID-19 and Vaccinations
Booster Shots. The FDA has approved Pfizer and Moderna booster shots (a third shot) for individuals who are severely immunocompromised.
LVMC has been, and continues offering booster shots to qualifying individuals who complete and sign an attestation form indicating that they meet at least one of the following criteria:
Receiving active cancer treatment for tumors or cancers of the blood
Received an organ transplant and taking medicine to suppress the immune system
Received a stem cell transplant within the last 2 years or taking medicine to suppress the immune system
Moderate or severe primary immunodeficiency (such as DiGeorge syndrome, Wiskott Aldrich syndrome
Advanced or untreated HIV infection
Active treatment with high-dose corticosteroids or other drugs that suppress the immune response
It is recommended that:
The third dose be received at least 28 days after the second dose.
When possible, receive the same vaccine (Pfizer or Moderna) as the first two doses. (Pfizer is approved for ages 12+, and Moderna is approved for 18+)
Talk to your doctor about the need for a third dose and the best timing of a third dose.
It was initially believed that booster shots would be available to the general public on September 20. That likely will not happen. However, those "in the know" expect it to happen by the end of September. We will wait and see. When booster shots are available, local projections are that approximately 75% of those fully vaccinated will request a booster shot.
LVMC Vaccination Clinic
We continue to operate our vaccination clinic on Friday afternoons. We are doing first doses, second doses, and third doses (boosters) for those who qualify. Appointments are available at myturn.ca.gov, and walk-ins are welcome.
Covid Statistics (Some Good News). Santa Barbara County Covid Adjusted Case Rate Per 100,000 Population has decreased each of the last two weeks. It went from 27.2 on August 15, to 25.2 on the 25th, to 19.6 on the 29th. Similarly, the Covid Positivity Rate has decreased each of the past two weeks. It went from 8.6% on August 15, to 6.3% on the 25th, to 6% on the 29th. However, at 6%, it is still higher than the statewide rate of 4.9%.
Covid Hospitalizations. Covid hospitalizations continue to rise in Santa Barbara County. As of today, there are 82 hospitalized patients, with 19 in ICU. That is approximately 30% more hospitalized patients than two weeks ago. At LVMC, there are currently 9 hospitalized patients, with 1 receiving ICU care. (Some patients are hospitalized with Covid, but not for Covid. For example, 2 of the 9 Covid positive patients at LVMC are hospitalized for non-Covid reasons.)
County Population Vaccinated, By Age Cohort. Shown below are the percentages of the county population who are fully vaccinated and partially vaccinated, by age cohort, according to county data:

Ages 12-15 42% fully vaccinated/12% partially vaccinated = 54% total
16-29 59%/10% = 69%
30-49 57%/8% = 65%
50-64 79%/8% = 87%
65-74 75%/12% = 87%
75+ 78%/7% = 85%

County Covid Hospitalizations and Deaths, by Ethnicity. Shown below is the percentage of county population/percentage of hospitalizations/percentage of deaths, by ethnicity, from the beginning of the pandemic. (The source is county data, although the data does not reconcile perfectly, so I used my best judgement regarding accuracy.)
Hispanic/Latino 48% of population/66% of hospitalizations/48% of deaths
White 43%/29%/42%
Asian 5%/1.9%/3.3%
Black/African Amer. 1.6%/1.6%/2.2%
Observation: Both Hispanic/Latino and White populations have Covid mortalities consistent with their respective percent of population but based upon history, the Hispanic/Latino population has a much greater likelihood of being hospitalized for/with Covid.
Hospitalizations Versus Death: Since the beginning of the pandemic, 19% of Covid hospitalized patients in the county have passed away. Although I do not have figures to provide, the Covid mortality rate over the past several months has been lower than during the early months of the pandemic.
Vaccination Figures
In Santa Barbara County, 65.3% of the eligible population (12+) is fully vaccinated, compared to 63.5% two weeks ago. 74.2% of the eligible population has had at least one dose. 55.3% of the entire county population is fully vaccinated, and 62.8% of the entire population has had at least one dose. More than 519,000 vaccine doses have been administered in the county.
Thank you for your continued support, and as always, please feel free to contact me at popkins@lompocvmc.com or (805) 737-3301. Until next time, be well and stay safe!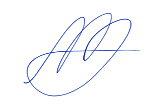 Steve Popkin
Chief Executive Officer