LVMC Community Update, August 26, 2022
This month our CEO, Steve Popkin, updates the community on COVID, vaccinations, and LVMC employees of the quarter.
Dear Lompoc Valley Community:
What happened on this date in history?
1682 – English astronomer Edmond Halley first observed the comet named after him (Halley's Comet).
1843 – American inventor Charles Thurber patented the typewriter.
1996 – US President Bill Clinton signed welfare reform into law, representing a major shift in welfare policy.
2019 – Johnson & Johnson was ordered to pay the state of Oklahoma $572 Million in the first trial against an opioid manufacturer.
Quote of the week
"Be like a duck, my mother used to tell me. Remain calm on the surface and paddle like hell underneath."  —Michael Caine
COVID Comments
Covid cases in Santa Barbara County are on the decline. The 7-day average of Covid cases per 100,000 population had a recent peak on July 14, 2022. Since then, there has been a steady decline, and we are now 61% below that peak. The last date on which the 7-day average was as low as it is now was February 10, 2022.
The Covid 7-day average positivity rate in the county stands at 11%, down from its recent peak of 16.8% a month ago. The "not-quite-as-recent" peak was 23.2% on January 10, 2022, and the all-time pandemic peak was 24.9% on May 6, 2020. This downward trend is great, but by comparison, in mid-2021, the positivity rate reached its low point of less than 1%.
There is more good news. The number of Covid positive hospitalized patients in the county has decreased from 35, with 5 in ICU a month ago, to 24, with 0 in ICU Of the 24 patients, 1 is at LVMC. For several/many of the Covid hospitalized patients, Covid is "incident to" their hospitalization, as they were admitted to the hospital for reasons other than Covid.
Vaccinations
Our vaccination clinics continue each Friday from 4:30 pm to 6:00 pm, at the hospital, for ages five and above. Appointments are available at myturn.ca.gov, and walk-ins are welcome.
Through our Lompoc Health medical clinics, we are offering Covid vaccinations for children ages 6 months to 5 years. For more information, please call Lompoc Health North H Center at (805) 737-8760 or North Third Center at (805) 736-1253. Other pediatric providers in the community will also be providing vaccinations for this age group, so please check with your pediatric provider.
We have placed an initial order of 1,100 doses of the new bivalent. It is manufactured by both Pfizer and Moderna, and we have ordered both. This vaccine is reported to more specifically protect against the Omicron BA.4 and BA.5 subvariants, the latter of which currently represents approximately 90% of Covid cases in the United States. We expect to receive the vaccine in early-to-mid September. Before it can be administered, the vaccine must be approved by the FDA, CDC, and Western States Alliance, and guidance must be issued regarding age and "booster interval" eligibility. Hopefully, this will all happen very soon so there will be no delay in offering the vaccine to community members. Over the past several weeks, the demand for initial vaccinations and boosters has gradually slowed at our vaccination clinics. Once the bivalent vaccine becomes available, we expect the demand for boosters to significantly increase.
LVMC Employees of the Quarter
Congratulations to our Employees of the Quarter for 1st and 2nd Quarters of 2022!!
Quarter 1
Hospital: Diana Cisneros – Senior Staff Accountant
Comprehensive Care Center: Jennifer Hyland – Restorative Nursing Assistant
Lompoc Health: Natasha Brown – Registration Representative
Quarter 2
Hospital: Raquel Winter – Lead Laboratory Assistant
Comprehensive Care Center: Miriam Ortiz – Certified Nursing Assistant
Lompoc Health: Mercedes Madden-Sanchez – Certified Nursing Assistant
Thank you for your continued support, it is very much appreciated. As always, please feel free to contact me at popkins@lompocvmc.com or (805) 737-3301. Until next time, be well and stay safe!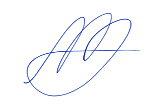 Steve Popkin
Chief Executive Officer