LVMC Community Update, February 4, 2022
This week our CEO updates the community on COVID-19 hospitalizations, vaccination/boosters, staffing, hospital visitation, and the CCC.
Dear Lompoc Valley Community:
What happened on this date in history?
1971 – The NASDAQ Stock exchange, the second-largest in the world – behind the New York Stock Exchange – was founded in New York City.
1974 – Chimpanzee Nim Chimsky used sign language to sign his first word, at the age of 2.5 months.
2004 – Mark Zuckerberg launched Facebook from his Harvard dormitory room.
Quote of the Week
"The most important thing is this: To be able at any moment, to sacrifice what you are for what you will become." -- Eric Thomas
COVID Comments
Hospitalizations
As of this morning, within Santa Barbara County there were 108 Covid hospitalized patients, with 15 of those receiving ICU care. Two weeks ago, there were approximately 150 Covid hospitalized patients. This represents a 28% decrease in Covid hospitalized patients. However, the number of patients receiving ICU care remained the same at 15. Of the 108 Covid hospitalized patients, 9 are at LVMC, with 2 of those receiving ICU care. (For sake of consistency, the above numbers represent the "morning Covid census." However, as I am writing this, the number of Covid hospitalized patients at LVMC has declined from 9 to 5, due to patient discharges.)
During this Omicron surge, Covid hospitalized patients at LVMC peaked about two weeks ago at 23, with 4 of those in ICU. Today, we are down 61% from that peak. The other hospitals in the county peaked a week or so before LVMC, but have declined significantly from their respective peaks, as well.
It appears that Covid hospitalizations are continuing to decline but at a slower pace. The typical pattern in the county has been a fairly steep decline in hospitalizations, followed by a 1-2 week plateau period where the numbers go up or down a little, followed by another more significant decline. However, as they say, past performance is no guarantee of future results.
Covid Peak/Decline
This week I participated in a meeting where predictive data was presented. The data, which was for Southern California including Santa Barbara County, showed the length of time it took from the two previous Covid peaks to get to the "trough," where Covid cases were at its low point and maintained very near that low point. The length of time was 60-70 days following each peak. For Southern California, the peak of Covid cases occurred during the first-to-second week of January. Therefore, this predictive model suggested that the region should be at the "trough" at around mid-March.
Santa Barbara County Public Health data shows that New Covid Cases and Active Covid Cases have declined from their prior two-week average by 37% and 32%, respectively.
Vaccination Clinics
We continue holding vaccination clinics for children 5-11 at the hospital every Wednesday, from 3:30 pm to 4:30 pm.
For community members ages 12 and older, we are holding vaccination clinics at the hospital every Friday from 12:30 pm to 6:00 pm. (Due to reduced demand, beginning the week of February 7, we are no longer holding vaccination clinics on Thursdays.)
For all vaccination clinics, appointments may be scheduled at myturn.ca.gov and walk-ins are welcome.
Vaccination/Boosters
1% of Santa Barbara County residents ages 5+ have had at least one vaccine dose. 70.8% of county residents 5+ are fully vaccinated. 66.6% of county residents (all ages) are fully vaccinated. (Keep in mind that "fully vaccinated" does not mean boosted.)
Approximately 12,000 county residents received a booster dose during the past two weeks, increasing the total number from approximately 132,000 to 144,000. This equates to about 32% of the entire county population, and about 48% of the county population that is fully vaccinated.
Staffing
In the last Community Update, I reported that staffing was by far the biggest operational issue hospitals were experiencing, with soaring Covid admissions at the same time record number of hospital staff were off work due to Covid reasons. This is still a big issue, but I am pleased to report that it has improved significantly at LVMC and at the other hospitals in the county. Covid ran its course for most of the staff who were out, and there are fewer new staff members needing to be off work.
Visitation
We are sensitive to the frustration of those who may not have been able to visit a family member because of the visitation policy implemented at the height of the recent Covid surge. Due to declining Covid numbers, we have revised/relaxed our visitation policy at the hospital. It is still consistent with recently issued State guidance. At the Comprehensive Care Center (CCC), the visitation policy remains in place, as required by the California Department of Public Health. Our visitation policies can be found on the LVMC website.
Comprehensive Care Center
Like many Skilled Nursing Facilities, the CCC had a Covid outbreak during the Omicron surge. At the peak, we had 50 Covid positive residents (fortunately the vast majority had only mild symptoms). As a result of employing very effective infection control protocols, today we are down to 2 Covid positive residents. There was a similar Covid outbreak among CCC staff. Today, however, we have no Covid positive staff.
Thank you for your continued support, and as always, please feel free to contact me at popkins@lompocvmc.com or (805) 737-3301. Until next time, be well and stay safe!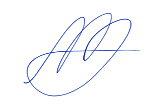 ​
Steve Popkin
Chief Executive Officer