LVMC Community Update, January 7, 2022
This week our CEO updates the community on our vaccination clinics, vaccination figures, good and bad news about COVID-19 in SB county, and changes to our visitation policy.
Dear Lompoc Valley Community:
What happened on this date in history?
1927 – The Harlem Globetrotters played their first game in Hinckley, Illinois.
1929 & 1934 – Tarzan comic strip and Flash Gordon comic strip, respectively, were first published.
1963 – The rate for first-class postage was raised from 4 cents to 5 cents.
Quote of the week
"We could not learn to be brave and patient if there were only joys in the world." --Helen Keller
COVID-19
Vaccination Clinics
We continue holding vaccination clinics at the hospital every Wednesday for children aged 5-11, at 3:30 pm - 4:30 pm.
For community members age 12 and older, we continue holding vaccination clinics at the hospital every Thursday from 12:30 pm to 2:30 pm, and every Friday from 12:30 pm to 6:00 pm.
At the vaccination clinics, we will be offering first doses, second doses, and booster doses. We currently have all three vaccine brands in stock.
For all vaccination clinics, appointments may be scheduled at ca.gov and walk-ins are welcome.
Vaccination Figures
9% of the county population 5 and older have had at least one vaccine dose, versus 75.8% three weeks ago.
3% of the entire county population has had at least one vaccine dose, versus 69.9% two weeks ago.
9% of the entire county population is fully vaccinated, versus 64.1% three weeks ago.
Covid in Santa Barbara County—The Good News and the Bad News
First, the bad news: Covid cases are "through the roof." New Covid cases are up 150% from two weeks ago. There are currently 4,833 active Covid cases in the county, which is a 116% increase from two weeks ago. The positivity rate as of January 2 was 21.3%, up from approximately 3.5% just a few weeks ago.
Now the so-so news: Covid hospitalizations are up significantly (26% from two weeks ago). However, the ratio of Covid ICU admissions to total admissions is significantly lower than in the recent past. As of this morning, there are a total of 77 hospitalized patients, with 9 receiving ICU care. At LVMC, there are 9 hospitalized patients, with 1 receiving ICU care.
Now the good news: The mortality rate (death rate) has not increased, and remains very low.
So, everything that has been reported about the Omicron variant seems to be holding true for Santa Barbara County: 1) It is very contagious, 2) the rate of hospitalizations is lower than with previous variants, but because of the sheer number of cases, the absolute number of hospitalizations has increased, and 3) the severity of illness and risk of death is lower.
Speaking as someone who is "triple vaxxed" and on day 3 of Covid quarantine, there doesn't seem to be a way to outrun the virus, we can only prepare the best we can. Who knows how effective the vaccine and booster dose are against the Omicron variant, but it certainly seems to me that the risk/reward falls in favor of being vaccinated and boosted. I had/have fairly mild Covid symptoms; I will never know if my symptoms would have been much worse had I not been vaccinated and boosted.
Covid Tid-Bits
At 29.2%, California ranks 32nd out of the 50 states in the percentage of their fully vaccinated residents who have received a booster dose. Vermont ranks 1st with 44.9%, and New Hampshire ranks last with 9.8%
At 66.62%, California ranks 14th out of the 50 states in the percentage of the population fully vaccinated. Vermont ranks 1st at 77.83%, and Idaho ranks last at 46.83%
California has the 12th highest Covid hospitalization rate (worse than average), but only the 45th highest death rate (much better than average).
Visitation Policy
California Department of Public Health very recently issued a State Public Health Officer Order limiting visitation at hospitals, skilled nursing facilities, and other healthcare facilities. The order became effective today, January 7. The intent, of course, is to reduce the spread of Covid among patients, staff and visitors. Some hospitals are even going beyond the requirements of the Order. The LVMC Visitation Policy for the acute hospital and the Comprehensive Care Center can be found on the LVMC website and at each facility. We understand and apologize in advance for the hardship and frustration this may cause for some patients and family members. We are calling this a "temporary policy," as we fully expect the policy to revert to "normal" once the Omicron surge resides.
Happy New Year to all, and thank you for your continued support. As always, please feel free to contact me at popkins@lompocvmc.com or (805) 737-3301. Until next time, be well and stay safe!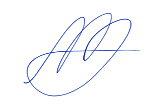 ​
Steve Popkin
Chief Executive Officer