Community Update, January 27, 2023
Category: LVMC Updates
Posted On:
Written By:

Steve Popkin, Chief Executive Officer
This week our CEO updates the Lompoc Community on COVID, Vaccinations, Public Health Emergency, and New Lompoc Health Physicians/Providers.
Dear Lompoc Valley Community:
Due to overwhelming demand…well, from one person…I am writing another community update letter.
What happened on this date in history?
1825 - United States Congress approved Indian Territory (present-day Oklahoma), clearing the way for the forced relocation of the Eastern Indian tribes via the "Trail of Tears."
1870 – The first sorority was founded—Kappa Alpha Theta, at DePauw University in Greencastle, Indiana.
1973 – United States and North Vietnam's William Rogers and Nguyen Duy Trinh signed a cease-fire, ending the longest U.S. war and military draft.  
Quote of the week
"How far you go in life depends on your being tender with the young, compassionate with the aged, sympathetic with the striving, and tolerant of the weak and strong. Because someday in life, you will have been all of these."
—George Washington Carver
COVID Comments
To generically sum things up, Covid is under control in the greater Lompoc area. Although Covid continues to spread in the Lompoc community, as it does elsewhere, the resulting severity of illness is not what it once was. LVMC currently has one Covid inpatient (not in ICU). Over the past few weeks, the number of Covid positive inpatients has ranged from 0 to 5, with 0-2 being the most common inpatient census.
According to the Santa Barbara County Public Health Department, the COVID-19 Community Level for the county remains Low, based upon the CDC definition.
Public Health Emergency
The federal government has extended the Public Health Emergency (PHE) at least through April 11, 2023. Those "in the know" believe the federal government will extend it one more time past April 11. The State of California had previously set February 28, 2023, as the end of the state's Public Health Emergency.  The state has made no indication that it will extend its date to coincide with the federal government date.
The declaration of a Public Health Emergency was more than just semantics. Just for the hospital/healthcare industry alone, it resulted in 69 initiatives, referred to as "flexibilities," intended to make it easier for healthcare organizations to meet the needs of the public, and to make it less burdensome on individuals. Of the 69 flexibilities, 45 will sunset on April 11 (or at a later date if extended by the federal government. Some of the other 24 flexibilities are tied to the state's PHE and will end on February 28, while some will continue past the dates for both the state and federal PHE.
Two examples of flexibilities that will be ending are:

Medi-Cal health plans (like CenCal) had been prohibited during the PHE from performing annual "redetermination" to confirm beneficiaries' eligibility to continue receiving Medi-Cal coverage. Effective April 1, 2023, Medi-Cal health plans will again be required to conduct annual redetermination and individuals who are found to not be eligible for Medi-Cal will lose their medical coverage.
A waiver of licensing requirements for out-of-state medical personnel to practice in California health care facilities will end on April 11, if not further extended.

I get a lot of questions about if and when mask mandates for staff and visitors at hospitals and healthcare organizations will be lifted, and whether that will occur when the federal or state Public Health Emergency has been declared over. That decision is under the purview of California Department of Public Health (CDPH), and to date, CDPH has not indicated an intention to lift the mask mandate.
Vaccinations
For now, our vaccination clinics continue each Friday from 3:00 pm to 5:00 pm, at the hospital, for ages five and older.
The number of individuals utilizing the vaccination clinics has been declining in recent weeks. We will continue to monitor vaccination demand and adjust accordingly.
You may have heard that the FDA has floated the idea of treating Covid booster shots as they do flu shots, with eligible individuals receiving an annual flu shot and Covid booster. It was reported on January 26 that this possible recommendation was discussed by the FDA Advisory Panel at its just concluded meeting, but no vote was taken. It was further reported that most of the 21-panel members argued against that approach. More to come from the FDA.
At the same FDA Advisory Panel meeting discussed above, the Panel voted 21-0 to recommend that the primary vaccine series also include the modified bivalent vaccine.
Inpatient Dialysis
We are ramping-up to begin providing inpatient dialysis services for those individuals who regularly receive outpatient dialysis treatments and then require inpatient admission to LVMC for an unrelated reason. We are slated to begin providing dialysis services on April 1. Up until then, such patients would need to continue going or be transferred to another hospital so that their dialysis treatments could be continued. After April 1, those patients will be able to remain at LVMC and receive their dialysis treatments. Our dialysis equipment was received last week, and our experienced dialysis nursing staff are receiving equipment-specific training.
Serving as Co-Medical Directors for the Inpatient Dialysis Service are nephrologists, Dr. Andrew Ross and Dr. Bindu Kamal. Other nephrologists are participating in the service and will be providing patient care, as well.
New Lompoc Health Physicians/Providers
In my last letter, I announced that in our effort to best serve the medical needs of the Lompoc Valley community, we were/are pleased to have the physicians and providers shown below join Lompoc Health. Since then, Eugene Kaplan, M.D. and Miranda Pierce, F-NP have also come on board with Lompoc Health. As a Urogynecologist, Dr. Kaplan medically and surgically manages the myriad of clinical conditions related to the pelvic floor and bladder, including the very common condition of female incontinence. Both Dr. Kaplan and Miranda Pierce are located at our Lompoc Health 3rd Street Facility.
Rachel Chamberlain, D.O. –  Obstetrics/Gynecology
Philip Ente, M.D. - Neurology
Harold Ginsberg, M.D. – Psychiatry
David Lemmel, M.D. – Family Practice
Melani Schaum, M.D. – Oncology
Melanie Tucker, LMFT – Counseling
Miranda Pierce, F-NP
Eugene Kaplan, M.D.
Thank you for your continued support, it is very much appreciated. As always, please feel free to contact me at popkins@lompocvmc.com or (805) 737-3301. Until next time, be well and stay safe!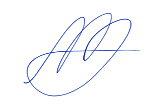 Steve Popkin
Chief Executive Officer