Changes in the Body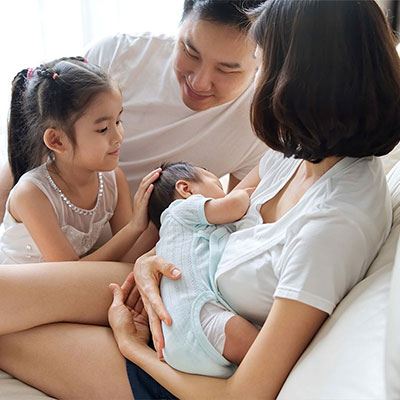 After the delivery of your baby and placenta, the hormones that were maintaining your pregnancy decrease, and the hormones of lactation increase.
For about the first three days after birth, you will produce colostrum, which is the newborn's first milk. You probably will not notice a big change in the fullness of your breast. Don't be alarmed -- that is typical.
Colostrum is thick and rich in nutrients and is designed to provide your baby the nutrition he or she needs right after birth. It also helps coat the gut and assist the baby in passing the first stools. Colostrum is also very high in immune factors, which protect your newborn from getting sick.
Every time you breastfeed, your baby's suckling causes your body to release milk. As your milk is released, the hormone that makes milk increase and produces more.
Milk production relies on supply and demand – the more you nurse, the more you will stimulate good milk production that will last for the duration of your breastfeeding journey. Around 72 hours after birth, your breasts will begin to feel heavier and your milk volume will increase.
The Golden Hour After Delivery
The first hour after delivery, your baby and your body are primed to get breastfeeding off to the best start.
Babies that breastfeed within the first hour of life tend to breastfeed more successfully and for a longer duration.
Your amazing newborn has reflexes designed to help him or her find and attach to the breast. Your body is ready to feed your baby with the first milk colostrum present and the milk-making hormones increasing.
Plan to make the first hour after birth a special bonding time with your baby – it's a very precious hour that goes by quickly!
During that time, place your infant skin-to-skin and breastfeed as soon as possible, if you and your baby are healthy post-birth. The skilled staff will be present to help you with your first breastfeeding experience.