A Surgeon's Touch
Patient: Marsahn Elijah Emerson
Date Submitted: May 7, 2019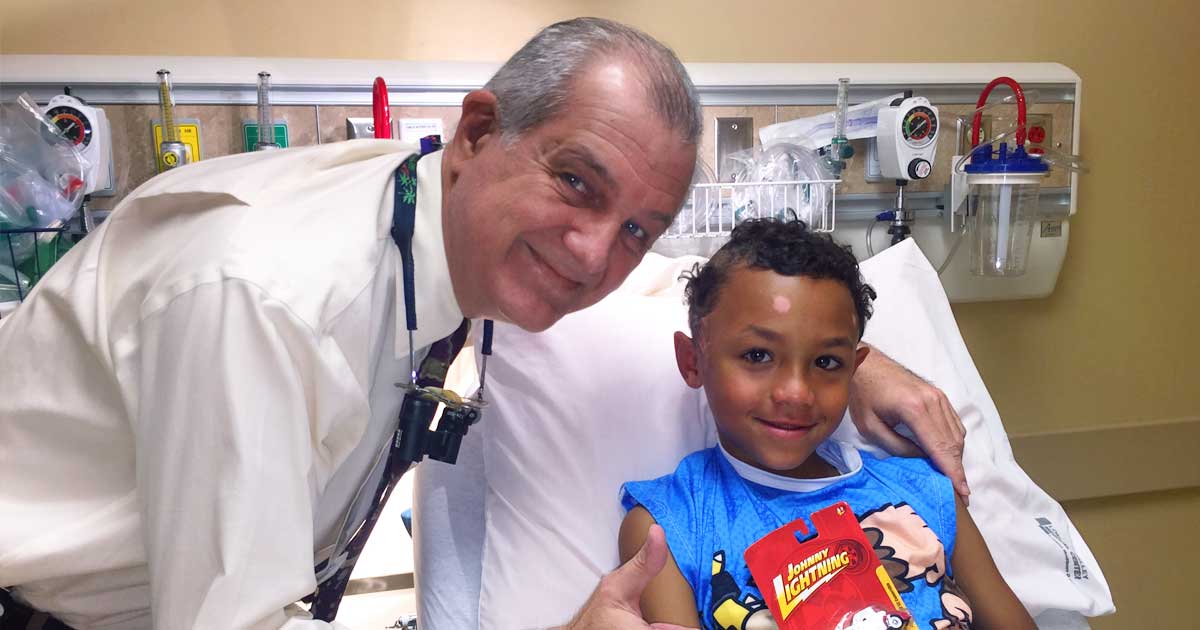 " When plastic surgeon Dr. John Baeke first saw 7-year-old Marsahn Elijah Emerson in the Lompoc Valley Medical Center Emergency Department last December, the little boy's head was a mass of bloody lacerations and punctures."
While playing at a friend's house, Marsahn was bitten by a Bull Mastiff-Pitbull mix dog that latched onto the back of his head with its teeth, causing a skull fracture. It was one of the worst dog bite wounds that Dr. Baeke has ever seen. Using his 35 years of medical expertise, the plastic surgeon was able to repair the damage to the first grader's head.
"Through this entire experience, Dr. Baeke has been excellent and really cared for my son," says the boy's mom, Elizabeth Crabtree. "He has a really great bedside manner and he put my son's needs at the forefront."
Once Dr. Baeke saw the boy in the Emergency Room, it was immediately evident the child needed urgent surgery.
"Dr. Baeke explained to me everything that was going to be done," Elizabeth says. "I am a woman of faith. I asked Dr. Baeke if he would pray with us. He led the prayer. That was very near and dear for our family." After the three-hour surgery, Marsahn needed to be transferred to Valley Children's Healthcare hospital near Fresno, because of concerns about potential neurological damage. Elizabeth and Marsahn's father, Marshall Emerson, spent three days there with their son and Dr. Baeke kept in contact the entire time. The physician was also responsive when Marsahn developed an antibiotic-resistant infection about 20 days after the injury. "He was compassionate, empathetic," Elizabeth says. "He cared about him on a personal level, not like Marsahn was just another number. I'm so grateful he's ok and I'm grateful for Dr. Baeke's care. If there's a new physician in the community that can be trusted, it's important the community knows that."
Elizabeth said she "can't say enough" about LVMC's nurses and staff, who catered to the boy by bringing him snacks and even a hospital Nintendo play center to keep him occupied.
Marsahn's bite scars are healing on his temple and cheek, as are the more extensive ones on his scalp. "With plastic surgery, for the most part, it's people who have a happy ending. This little boy's going to have a happy ending," said Dr. Baeke, who did his surgical residency at Santa Barbara Cottage Hospital. Dr. Baeke, who practices at Lompoc Health - North H Center, returned to Lompoc after decades practicing in Kansas City. Early in his career, he was an emergency room physician at the old Lompoc hospital. He earned his medical degree at the University of Kansas School of Medicine.
Among his specialties are surgeries such as otoplasty (ear pinning); breast augmentation, reduction and lifts; post-bariatric skin removal, skin cancer, and scar revisions and liposuction. He will also be involved extensively in the management of acute and chronic wounds.