Enjoying Life Again
Patient: Dick Newcomb
Date Submitted: May 1, 2019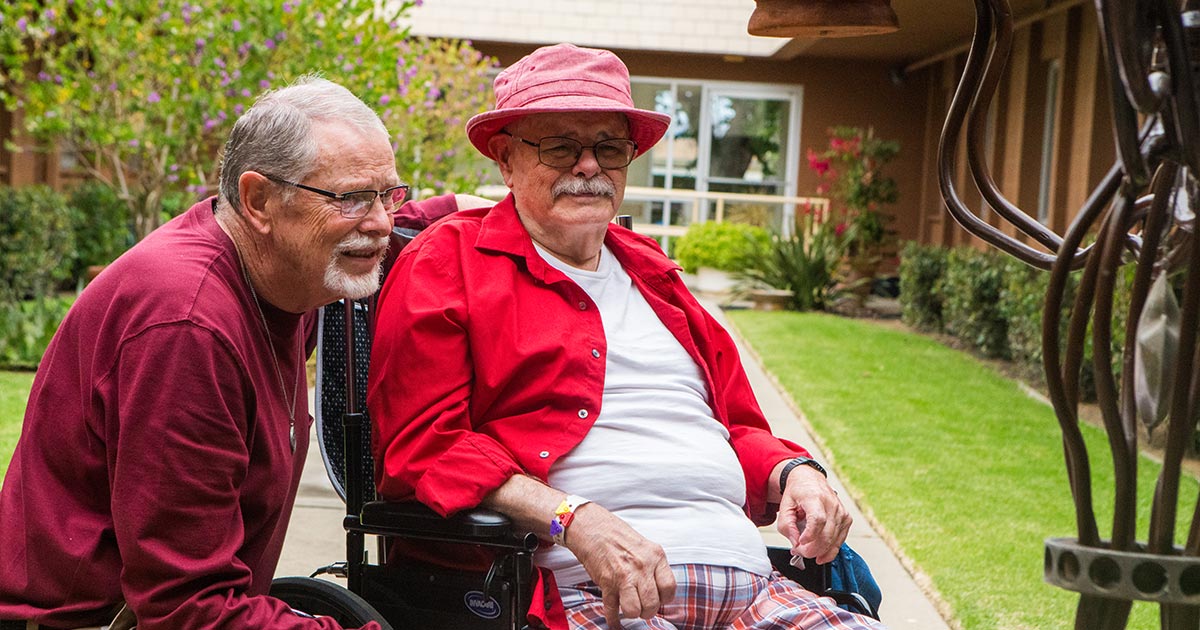 " Dick Newcomb and his younger brother Glen were always close as siblings, even with four years separating them."
They both graduated from Lompoc High School — Dick as valedictorian in 1957, and Glen in 1961. The brothers were literate and musical, and both went on too long careers in education.
Glen stayed in Lompoc and had a distinguished career as an elementary, middle and high school teacher with the Lompoc Unified School District.
Dick went north — earning his degree at the University of Washington in Seattle, serving in several capacities as Resident Adviser before retiring as the Associate Director of Academic Counseling.
A few years ago, a devastating accident ended up reuniting the brothers in Lompoc. For the past three years, Dick, 68, has been a resident of LVMC's Comprehensive Care Center, after suffering an injury that left him in need of round-the-clock care.
The "tremendously intelligent man," as Glen calls his brother, was preparing decorations for Christmas in early December 2012, when he fell backward down a long flight of stairs.
Glen clearly remembers the call from the premier trauma hospital in Seattle, and the top neurologist speaking to him.
"Your brother had an accident, and we need to do extensive brain surgery or we'll lose him," the surgeon said.
Dick wasn't expected to live through the surgery, but he survived. After spending nine days in critical care and six weeks in the hospital, he improved enough to transfer to a semi-assisted living apartment.
For a time, Dick was fine. But as a result of his brain injury, he began falling and having minor strokes. Both Glen and Dick said they realized the older brother could no longer live alone, considering the severity of his brain injury.
Looking for a living opportunity that offered rehabilitation — but that wasn't a skilled nursing facility — they found four potential locations in Seattle.
Dick, however, had another idea.
"Isn't there somewhere in Lompoc," he asked Glen. "Couldn't I move home?"
After a year at another facility in Lompoc, the brothers realized Dick needed more full-time nursing care. His short-term memory is severely damaged, and he often forgets to ask for help. He was also falling again.
In 2015, Dick became a permanent resident of the Comprehensive Care Center. He was quickly crowned as the CCC's Flower Festival King.
"He is reveling in the attention of the aides and nurses," Glen says of his brother. "They are so sweet. They're so friendly. He enjoys having someone take care of him for a change."
Since moving to the CCC, the transformation of his brother's health and well-being has been astounding to Glen. Multi-lingual, Dick had been a voracious reader, accumulating 5,000 volumes in his home and becoming a published poet. But his injury had left him unable to track character development.
"Now, I am so rejoiced; he has regained his ability to read," Glen says.
Glen attributes that to the CCC's speech and occupational therapy team.
"He has regained a lot of his short-term memory and his ability to read and understand," Glen says. "He has continued to improve. Physically, he's doing well."
Dick is popular at the CCC — cheerfully saying hello, participating in activities and always smiling.
Glen visits twice a week, bringing his brother personal necessities and books. Dick is now quickly reading through his Kindle stockpile.
"It's a huge relief to have him at the CCC," Glen says. "I'm able to be a part of his care. Otherwise I couldn't see him."
He's also comfortable enough to express to the staff if his brother needs something.
"I'm able to be here to do things," he adds. "We could not care for him at home."
The brothers partake each month in the CCC's "Care Plan" team meeting, where staff and the brothers discuss in detail Dick's physical, social, psychological and developmental needs.
"I could not think of a better place for him to be," Glen says. "I couldn't be happier. He has an almost Zen-like contentment. He knows what happened, and believes 'What is, is."