Forging a Friendship Through Healing
Patient: Bev Chandler
Date Submitted: Oct 23, 2017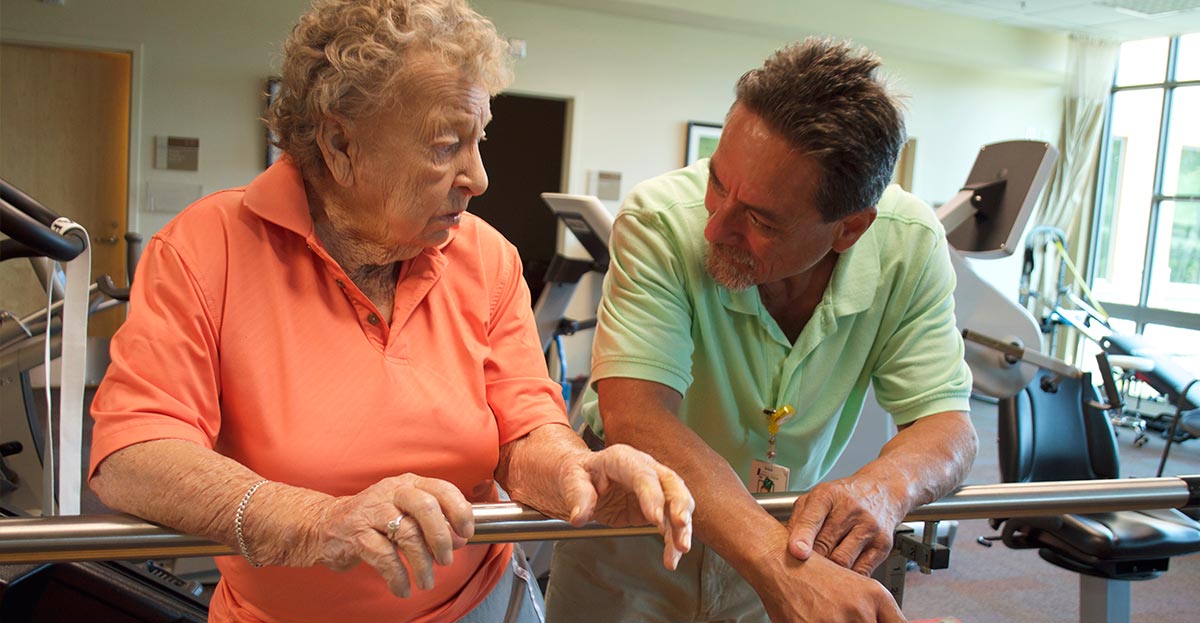 " Bev Chandler Walter has the kind of life that seems perfect for Hollywood. And that's the way it was for many years, as she acted in westerns and performed alongside the famed trick rider Montie Montana. She gained fame for taking her solo pilot flight after just less than seven hours of instruction and emphatically calls herself a "cowboy" rather than a cowgirl, because "cowboying" is her profession."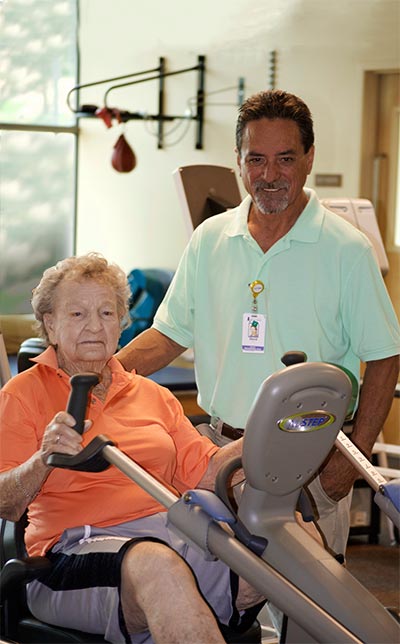 Decades of an active life caught up with her eventually, coupled with extensive exposure to mold and mildew, and she became deathly ill. She's been hobbled by seven years of surgery – two new knees, a broken femur and abdominal surgery. A 59-day coma in 2015 put an abrupt stop to her once energetic lifestyle.
Getting the dynamic and active woman back on her feet and moving was the goal of Lompoc Valley Medical Center's Director of Rehabilitation David Munar and his staff.
Munar calls Bev his hardest worker – not surprising since she survived polio in 1939 with the help of her five older brothers putting her through their own brand of rehab. "She has a strong desire to live and continue living as healthy and as strong as possible," Munar says. "I want her staying active, not just sitting around at home." For her part, Bev says she gives her physical therapy – and particularly Munar – "Everything I've got. He demands it."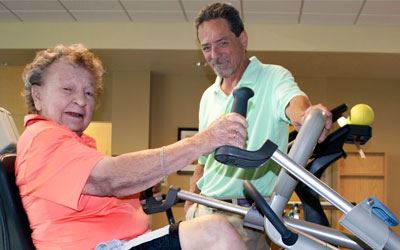 Two years ago, she was a short-term resident of the Comprehensive Care Center, and Munar and his staff provided Physical Therapy. When she returned home, she did outpatient work as well.
"There were times I dreaded to go, I hurt so bad," she recalls. "I keep going back there for therapy. I've been all over the county for help, and I keep coming back for David. Without David and his staff, I'd be crippled. I couldn't have made it without him."
Getting the vibrant 85-year-old back to having a full range of motion in both knees was Munar's goal. "I know what needs to be done and I don't care how much it hurts," he smiled. "No, he didn't," Bev replies. "He was born for the job."
Bev, widowed in 1991 after her husband Albert's death, comes to physical therapy at LVMC twice weekly. "I've come to love them," she says. "My life's been one that's really been fun. It's been sad at times. It's all part of life."
Munar has been a Physical Therapist for 28 years, including 17 at Lompoc Valley Medical Center. His early adult life was spent as a vagabond, he says, working when he needed money and surfing. His brother talked him into considering physical therapy as a profession.
"Once I got into it, I realized it was for me," says Munar, who received his bachelor's degree in physical therapy from Loma Linda University School of Allied Health. He's been in charge of speech, occupational and physical therapy at LVMC since 2000.
"We see the patient from the Emergency Room, acute hospital, CCC, and to the outpatient clinic," he explains. "That's what I've done with this gal Bev. We get the best results with our continuity of care."