COVID-19 Community Update, April 8, 2020
Dear Lompoc Valley Community:
Below, please find an update regarding the COVID-19 situation from the Lompoc Valley Medical Center perspective.
COVID-19 Related Patient Volume/Community and Federal Correctional Institution (FCI).
LVMC presently has 13 COVID-19 related inpatients, including 10 confirmed positive and 3 pending test results. Only one of the 13 (one that is pending results) is from the general Lompoc community. The other 12 are inmates from FCI.
When a patient at LVMC requires tertiary level care, he/she is typically transferred to Cottage Hospital. There are four additional inmates from FCI being treated at Cottage Hospital.
FCI publicly reports the number of COVID-19 positive inmates and staff. Their last update reports 29 inmates and 6 staff having tested positive. The majority of those who have tested positive do not require hospitalization. There have been no COVID-19 related deaths among FCI inmates or staff. Last night a media outlet incorrectly reported that there had been 8 inmate deaths.
LVMC, Cottage, and governmental entities are working closely with FCI to mitigate the spread of COVID-19 at FCI and minimize the need for hospitalization.
COVID-19 Test Results.
Of the 201 COVID-19 tests that have been initiated through LVMC, at both the hospital and Lompoc Health clinics, there have been 30 positive, 138 negative, and 33 pending.
Champion Center.
As of today, there still has not been a determination regarding the use of the Champion Center for COVID-19 related purposes.
COVID-19 Hospital Wing and Alternative Care Sites.
As previously reported, in order to minimize exposure for our patients and healthcare workers, we have established a COVID-19 wing within our medical-surgical unit. It is currently in use and is operating effectively. We have also retrofitted our large Physical Therapy area within the hospital to use for additional inpatient beds if it becomes necessary.
Comprehensive Care Center.
The CCC continues to do well, with no COVID-19 positive patients/residents, and only one individual under isolation protocols. Staff are working diligently to ensure residents have activities and access to their loved ones.
Personal Protective Equipment (PPE)/Donations.
The adequacy of our PPE inventory changes daily, so we continue our best efforts to conserve. We are gratefully accepting donations of all PPE, including hand-sewn masks. If some of the donations are not appropriate for use by healthcare workers but are suitable for the general public, we will make sure they get to Lompoc community members who can use them.
Lompoc Health TeleVisits.
Tele-visits (remote video physician/provider visits) are now available for existing Lompoc Health patients. Those wishing to schedule a TeleVisit should call the Lompoc Health Customer Care Department at (805) 737-8700 for North H Center, and (805) 736-1253 for North Third Center.
Learn more about Lompoc Health TeleVisits
Tents at Emergency Room and Urgent Care Center.
We have erected a tent outside our Emergency Room and adjacent to our Urgent Care Center at the North H Center. These tents are helping us optimize the efficiency of serving patients at the ER and Urgent Care Center while minimizing exposure for patients and healthcare workers.
Donations.
A huge thank you to the following businesses and individuals who have made donations of Personal Protective Equipment and supplies, food for our healthcare workers, and other acts of kindness. You are all very much appreciated!!
The ones in bold have been added since the last update:
Space X
Lompoc Oral and Maxillofacial Surgery
Santa Barbara Foundation
Lompoc Hospital District Foundation
Lompoc Unified School District
Lompoc YMCA
Floriano's Mexican Food
Circle K
Keller Williams Realty of Lompoc
Girl Scouts of Lompoc
Arbonne independent distributors
Orcutt Bakery
Northrop Grumman
L3Harris Technologies
Astrotech Corp.
Harbor Freight
Home Depot
Direct Relief
Heath Dental
CHC Dental
Mikowicz Dental
Kimberly Nails
Not Alone Plumbing
Artisan Uprising Winery/Azeo Distillery
Starbuck's Store 496
Tom's Burgers
Super Grill
Sign Gypsies Central Coast, and Patricia Thomassen
(if I missed anyone I apologize and will update next time!)
Thank you, Lompoc Valley Community, for your tremendous support of LVMC and our healthcare workers!!
As always, please feel free to contact me at popkins@lompocvmc.com or (805) 737-3301. Until next time, be well and stay safe!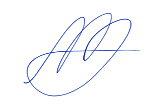 Steve Popkin
Chief Executive Officer